As much as I want to take the cockatiel at my work home, that's not my new 'pet'.
I rescued this new guy, Monday (name, not day) , in the truest sense of the word.
I found him, with a broken leg And injured wing, on my way home from work.
Bleeding hearts...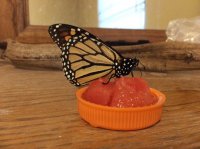 It's hard to tell in the image, but Monday (a male monarch butterfly) is missing one of his fore wings and half of one of his legs. He can't fly. I found him on the sidewalk and walked a mile with him in my hands.
Now he's home, eating a mixture of simple syrup, water, soy sauce, and a few small pieces of watermelon. Supposedly this is a good maintenance food for butterflies.
Update! Got a pic of his wings open while writing this thread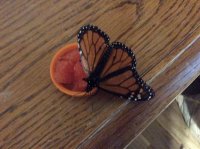 Poor guy =(