Rollerblading along the road
Celebirdy of the Month
Mayor of the Avenue
TAILGATING!!!
Joined

6/4/19
Messages

3,204
Location
Real Name

Riley
So I noticed that Mods could give their threads custom Covers (is that what they're called?) and I thought it would be nice if normal members could do that too.
(A pic so that you know what I'm talking about)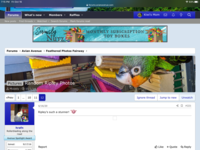 It's just an idea, but it would be really nice if people other than mods could do this too.