ASK ME FOR PICTURES OF MY MACAW!
Super Moderator
Mayor of the Avenue
Avenue Spotlight Award
Joined

4/28/18
Messages

11,591
Location
Real Name

Shez
So Burt loves to forage for treats and has just recently decided my foraging ideas are for little birds and he knows a much better way for large birds to forage!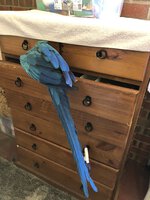 This set of drawers has one draw designated to treats and other Burt bits and pieces.... he has taught himself how to climb the drawers from the bottom one and open this draw that has the treats in it. He has opened the one beneath it and decided that my junk is not as interesting as his draw so he only bothers with this draw now.
I ask him what he is doing and his reply was that cheeky hahaha laugh.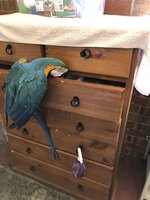 He always checks the far left of the draw where there are snap lock bags and other junk from his treats as well as quick links and the odd block before going to the middle of the draw to steal pine nuts. Well today he didn't shove his head in the pine nut container because he spied the other treats in there!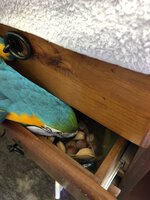 He chose a pecan then wanted to go into his cage