♥❀Livin´ in Lovebird Land❀☼
Super Moderator
Avenue Veteran
Celebirdy of the Month
Mayor of the Avenue
Avenue Spotlight Award
Avenue Concierge
Joined

1/8/18
Messages

29,228
Location
*well more or less


I don't have the biggest imagination when making DIY toys, but I do know what they enjoy...
The flock (mainly the Blue Team) has been so noisy today, I think the doves aren't helping either.

So, a 5 minute toy is created and now I have a little bit of peace and quiet


5 coloured ice lolly sticks separated by 5 beads, cardboard tubes with beads on the string inside and filled with gift bag paper, another 5 lolly sticks and 5 beads, and other paper tube with beads inside filled with crinkle paper and a couple of millet clusters, another 5 sticks and 5 beads, a kitty ball with bells inside, topped with a few beads on a lobster clip.

Ps, it is pretty big!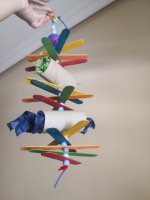 When Aldora is quiet, the other generally follow suit,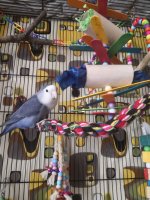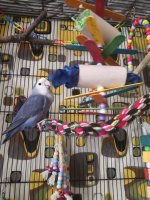 I think she approves...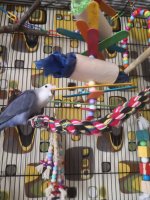 I added about 4 sticks to an existing toy for the little ones, they have been chewing it non stop for the last half hour! They have destroyed one so far..

Edit;
Last edited: