Hi, everyone! I hope this is the right place to put this -- please let me know if I should move it or can provide any other information! I'm in a weird situation and desperately need experienced advice. I've raised baby birds, but none before at LEAST 6 weeks of age.
Joined to see if someone can help!
My partner contracts for nursing homes. These homes often have aquariums or aviaries for residents to watch. Feb 19th, a lovebird was injured by a care home resident; he accidentally shut her head in the aviary door (!!!) What's worse, she had BABIES. The home was unable to tell us when they'd hatched, but here's a photo of them from the 17th if that can help anyone guess their age.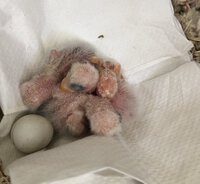 We immediately took mama lovebird to the vet, then brought her and her babies home with us for observation and care. The vet said the mother had damaged both eyes but was otherwise fine. During the first few days, she stopped feeding the runt nestling completely; as soon as she did I picked up the job with Kaytee formula, made at the temp and ratio directed (using boiled water and clean feeding tools.) Eventually she kicked the two smallest babies out of the nest, at which point I put them in an incubator (started at 90, brought down to 87.) I've been caring for them ever since, and I'm hoping anyone with experience can help me troubleshoot what I'm doing wrong.
The older one, Jon, is very active and alert. Crop emptying at a good rate; I feed him every time he's down to about 1/3rd full, which is every three hours right now. I have him on thick Kaytee formula, and every other feeding I include a little kale/apple baby food. He's starting to chew curiously on soaked food pellets, but isn't interested in them if they aren't offered, so I offer them every other feeding and will go at his pace with that. I suspect he's food-panicy due to being abandoned, as he won't stop begging even when stuffed completely to risk of regurgitating, so I'm keeping him on a strict schedule based on crop emptying. He had splay legs, but I have him in hobbles and they're straightening up well. He has a cowlick on head, which I believe is a sign of stunting; his feathers are not coming in as fast as his brothers, but I am hoping if I feed patiently and regularly, he may just be a slow grower, as his attitude is otherwise bright and engaged. Is this all reasonable? Is there anything else I can be doing for him? His attitude and weight gain suggest he's okay, just slower than his brothers.
PROBLEM CHILD:
The smallest, Martin, sleeps mostly, but will go on random adventures in his makeshift nest and has serious strength in his legs, though they're starting to splay (I have him on aspen shavings, but will hobble him if this continues.) He begs eagerly if aware of your presence, and digestion is moving well. Poop looks normal. However, like Jon, he continues to beg even when full to danger of regurgitation, and here's what he looks like...
Here he is on the 22nd: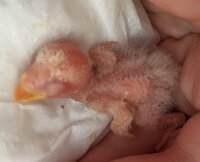 And here he is today, the 9th (so he's at least 20 days old.)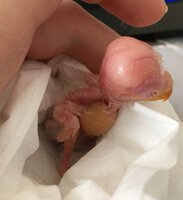 What am I doing wrong?! He has gained a little less than two grams in the past two weeks, and is now SEVEN GRAMS. His brother Jon already has pinions coming in! He's incredibly stunted, right? Bulbous head, veins showing through nares, no feathers coming in? Normally I'd assume I've fed too-thin formula, but I'm following mixing instructions closely.
Here's what I've done/considered so far:
1) Called vet, described situation; was told they'd suggest euthanasia based on his description. I'd like to keep trying as long as Martin seems to be in no pain/distress, rests well, and shows energy for exploring/eating, if that doesn't sound unreasonable/unfair to the bird. Am I being selfish in continuing to try for this little guy?
2) Had a fecal stain done; good results.
3) After two days of a 'clicking' while breathing (which in the past has always signified a respiratory issue in wild fledglings I've fostered) I put him on a five-day course of Morning Bird company's Amoxitex, which cleared up the clicking. Today is the final day, after which I'll be giving him Morning Bird probiotics to recover his bacteria. In the meantime, his digestion slowed a little (which I've had happen before to birds on antibiotics) and I've been lacing his Kaytee with a little fresh squeezed papaya and apple juice, which seemed to get him back to normal speed.
4) Incubator at 87 degrees, feeding happening every time crop is 1/3rd to 1/4th full (about every two hours.) Kaytee formula made to measurements on packaging, fed at 106 degrees. Every other feeding, I mix in 1/5th baby food: apple, carrot, kale, or mango.
Is there something obvious I'm missing? Is this a genetic issue I can't win against? Am I somehow messing something up?
Immense thanks for reading all of this, and any thoughts/help would be so incredibly appreciated!
Last edited: