Rollerblading along the road
Avenue Veteran
Joined

11/19/09
Messages

1,172
Location
Real Name

Clive
As part of feeding fresh. Sprouts are an important part of this.
I.E. Serving soak seed and sprouts means you are feeding live foods.
This is a big bonus as they do not go off in the food tray, they will keep on growing.
Sprouting good seed, grains, peas, and beans, can cover a lot of a birds needs, in a natural food. And the vitamins, minerals, and trace elements are natural.
What does this mean. It means the birds body can deal with these in much better ways than manufactured ones.
What can you sprout?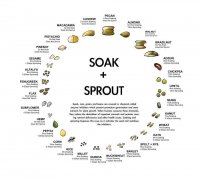 The above is a good guide. Not complete by any means. There are many other things that will sprout.
WARNING: Some beans are not suitable.
This is a little complicated, so please check before using any of them.
Exceptions: Mung Beans which are a top bean, and only lack Vit A.
Is it complicated? No!
Do I need to buy any special sprouting items? No! I use just a few jars, one lid I drilled holes in it. For the smaller seeds I use a strainer. See Pics.
Can I store them. Yes! But only for a few days in the fridge, and rinse them, preferably in ACV mix, every day. They do need to be drained and not left sitting in water, which will go cloudy, and may turn your sprouts. So this is a little more complicated. I will show you what I use, below.
What are the dangers? I hear so much said about this. So lets look at why!
Buying sprouts from the supermarket. A: These are past their prime. B: They may of been treated to help them look fresh. Don't Buy or use these.
Old Stale things you try to sprout will go moldy in the soaking.
Using Dirty Water, will cause a problem.
Failing to rinse often enough will cause a problem.
Trying to keep them over a few days, can cause a problem.
I used to sprout Mung Beans mainly with a few others now and then. Why! I have never seen a problem and have sprouted them for many years. Only ever sprouted enough for a few days and only served them from soak to tails just over the half inch long. Then threw any left away. But as I have more birds and I wanted to add variety, looked to step things up.
I looked at what was available here in NZ. The bird Barn do their own. Not sure what they list in them. Top Flight do what seems a good Soak & Sprout mix. The only things that put me off. Was price. And the Kibbled things in this. I mean anything kibbled is not there as a sprout is it.
But they were good enough to give me a full list.
So I went shopping, and shopping. Now I know most if not all produce coming in to the country is treated in some way or another, to sanitize. This can effect the viability for them to grow. Plus old stale stuff will not sprout or at least be very poor germination.
So I decided to start of instead of using a total mix, I would sprout each in different jars, so that if any were not going to work I could throw away.
I did find Soy Beans, but after a bit of research dumped them. Not worth the risk. Probably ok in small amounts. But there are plenty of known good seeds to use.
Cockatiel Seed mix. I know this is a good one as it comes from my wholesale, fresh as, and sprouts well.
Sunflower
Safflower
Wheat
Hulled Oats
Whole Oats
Barley
Pumpkin seed
Rape seed
Cockatiel seed mix (I know this is good and fresh seed mix)
Blue peas
Maple peas
Grass seed (This is as per lawn grass seed mix)
Mung beans
Maize
Adzuki beans.
Quinoa
I did try Flax. But it turns into a gooey mess. I am told you can rinse the goop off and it will sprout. But not worth the effort. SO I just use it fresh and sprinkle in the mix at serving time or add the their seed mix.
Yes I do feed a good amount of seed. But note I do add things to there basic mix. And it is important to note most seed mixes are very basic with sometimes only 5 different seeds in that mix.
Lets start with the Flax Goop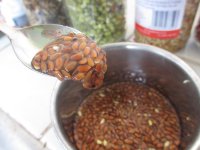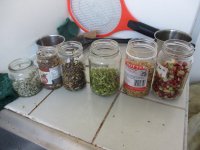 The first lot I used a plastic bag to mix them all up, rinse and drain.
Here is an example of why you need to rinse. These were ok but if they had been left they would of gone off. This was when I went to rinse in the morning, I took the photo to show that the water can go cloudy. Always rinse until the water stays clear.
The first serving. They were just starting to sprout.
And my Red Head enjoying them. What a great food tray ash trays make! and you can see the filter I removed from a strainer on this shot.
She likes them so much she will follow me around in the mornings watching and waiting. As soon as I put them out she is there.
I am on batch three and have cut down the amount of jars now. I know that they are all good.
I still use different jars as somethings take longer to germinate, so start them a day or two early for each mix. I do not feed these seven days a week. they get a break from them before I do the next lot.
I even got to see Alex and the Tiels getting stuck in, but I have to put these out in a separate tray, so they do not disturb Sophie. If I have missed anything please ask.
Last edited by a moderator: