Rollerblading along the road
Avenue Veteran
Celebirdy of the Month
Joined

2/17/13
Messages

4,389
Location
Real Name

María
I Think there should be a sticky about do's & donts with splayed birds.
Certainly Kiwi's story thaught me that Birds arent made to be laying down all the time!
With Zazu CAG his story was a reminder! Kiwi's vet told me after she saw Kiwi had improved a lot... That bird's arent made to be laying down. For a splayed Bird laying down permanently means lack of muscle tone, respiratory problems and eventually kidney problems and then death.
My vet told me that info when Kiwi was around 8 weeks old she saw her and told me You got to Take out the towells because laying down constantly means a short life span (less than 4 years In birds with splayed legs) she said You got to make her be active and move around. She was extremely pleased a year later when she saw Kiwi again and had no towells and she was climbing on the roof and everything in her cage! And even saw her standing on a perch!
(Mind You her vet was one of the 3 vets that suggested to put her to sleep) after she saw her progress she told im glad You followed Your instincts and didnt paíd attention to what i suggested, she said this is something i'll take for other splayed birds i have seen quite a few and she told me she had put to sleep one before meeting Kiwi. This thaught her that they can adapt and be happy in their own way. At first i didnt did what she said of taking out the towells it took me 4 weeks. After i saw Kiwi making holes to the towells then i took them out. At the age of 12 weeks.
No happy hut for splayed birds because it promotes laying down. They got to be active and moving. I had the experience with Kiwi she had one, and she spent most of the day laying down in it until i told the vet and she said take the happy hut out! & out it went.
We should help them to adapt better to their lives instead having them all confy Sitting down and carrying them around, Thats Bad even for kids or people! What happens when a person lays down constantly without any actívity at all? Muscle athrophy, respiratory problems (this 1st two can take a year Or two years) and then comes Kidney problems leading to Kidney failure in Humans this can be reversed Sometimes. In birds it can't be reversed. In birds this eventually leads to death.
I think we parronts should treat them like If they were 'normal' even If they arent. This gives them the tools to act like If they were normal, this is what Kiwi DOES because i raised her like If she Was a normal bird but i gave her the platform perch because of her legs. And adjusted My way of handling her so she could adapt with her legs.
Another thing i did with Kiwi was daily Feet massages, with hydro Feet therapy and the sponge splint for 8 weeks everyday. Grabbing her toes everyday to make them grab My fingers!
By watching Baylee she learned to stand more normally.
Kiwi when i got her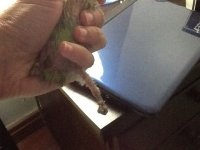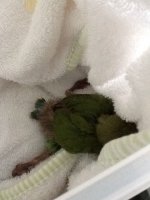 Picture of her todAy You barely notice her leg is splayed! Almost 2 years later!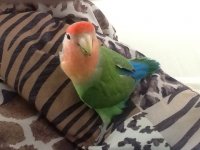 Last edited: