I didn't know when, nor *if* this would occur... or how. My heart was ripped and shredded to pieces far too many times within the past year, and then some. I couldn't go out and just replace that which I have lost but my heart was aching for something more. My S.O and I have been talking about getting a pet, primarily for himself but potentially for me, too. Anything from a bird (he's interested in several species, but leaning towards green cheeks or cockatiels), to a cat (he was leaning towards Himalayan, but I convinced him on a Ragdoll) or a dog (husky at first, but now leaning towards Australian shepherd).
I lost my cat [Sprite] first (last year), then my mother [Squirt] and sister [Emma] lost their cats within 12 or so hours of each other a while later, so we all were feeling pretty down. (not to mention all my other losses) My mother bought a kitten first, from Craigslist, which she has named Muggles. (aka "Mugly Ugly" - nicer of some of his nicknames...). My sister then adopted a cat from the humane society (was Calia, now Lia). I'm still catless... and my S.O. is taking too long to decide if or when he'll be getting something... I'm kind of going stir-crazy, considering "stealing" (adopting for a weekend? day? or a few hours?) someones dog just so I could enjoy having a furred critter around again, even if it wasn't my own. I was raised with animals my entire life, I've almost always had cats and/or a dog as part of my life, so being without either has been tough.
I still have birds, but you can't *safely* cuddle with them at night, go running with them, etc. (at least not in the same way you could with a cat or a dog... depending on the activity). Although my S.O. was primarily interested in a dog (running companion/extra safety), we had been looking at a lot of cats. We've come across several cats that he has been interested in, and he mentioned taking that cat home, however, when I left the decision up to him, we left empty handed. Sure, the cat was friendly, it was cute or pretty... but it was still just a cat.
Well, about 3 weeks ago, that all changed! If I have the information correct, "he" was brought in to the humane society on May 23rd as an unclaimed stray (6 days to claim a pet as yours before it's released and put up for adoption), estimated to be about 4 years old, assumed to have matted fur due to having back and sides shaved (not head, legs, stomach, or bag of legs). May 24th, he was taken to a local pet store that adopts out cats from the humane society, and that's when we saw him. A cat that they had named, for the time being, as Gomez.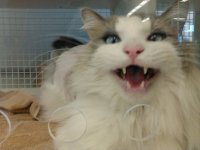 There was a kitten right above "Gomez" that was really sweet as well, but for whatever reason, that night and the next day, all I could think of was him. We (or perhaps I, with no heads up to my S.O. that we were heading there!) went back and adopted him the following evening, on May 25th. I just knew that if I missed getting him, like I did with a previous animal, I would regret it. And the weekend of adopting him is another fun little story... lol Neither one of us likes Gomez, can't think of any better names, so we went completely unoriginal and named him Razor!
But now he's here and I'm wondering if he's some mixed breed cat or potentially ragdoll. He at least looks like a ragdoll, but behavior-wise.... not ragdoll. He's 13 lbs (so small side *IF* he were ragdoll) and is semi-affectionate. Razor likes sitting in laps, laying on people, even if it's only half way and he has his upper body on you but his feet/rear end are elsewhere. He enjoys having his head scratches. He does follow people around, to the point that if one person is paying attention to him, because Razor wanted the attention, but someone new or different walks into the room, he'll get up from the person he is with and go and see what the other person is doing!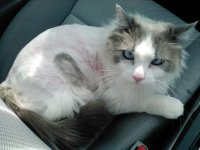 However, Razor does not like his back or stomach touched and will even get up and leave if you persist in petting him in those areas. His sides and back are shaved, so maybe it's from that? He also doesn't really purr... or at best, a purr is either a snoring sound or a whispy/quiet sound. I suspect it could be his personality, or maybe he's still settling in after 3 weeks? He was sick with a respiratory infection and *IS* on meds for that (until Sunday), so that could also be playing a role in how he feels.
It's just kind of tough though in that the way I want to interact with him, I can't. I have a friend who has said that her dog and cats don't like strangers and yet, they wouldn't leave me alone! My previous cat was far more hands on and affectionate and she came out of a grocery store parking lot! (family giving away kittens there) I'm an extremely patient person, and am having to exercise that now, since he's not the cat that I want him to be! Or that, I know that he can be! Having said all that, I think he's on the road to learning "shake"!
Razor is probably some mixed breed cat or something, but for looks at least, I keep coming back to the Ragdoll... none of the similar looking cat breeds like the Birman or the Balinese... Personality does seem kind of between Ragdoll and Birman. Whatever he is, I'm still glad to have him!