Saphira is beautiful. B&G's have such a cute baby face. It sure looks like she's turned into a wonderful companion.
JaJaBinks (avatar pic) was 2 when I got her in 2001. She was a rescue, had been abused & neglected. She turned into an amazing companion. Sadly she passed in August 2020. Once I earned her trust she was just an easy bird. She'd stay on her cage, wasn't destructive, etc. She liked hanging out & doing stuff with me. I really miss her.
I got JaKhu (B&G) a few days later. We drove 4 hours one way to get her. She was 4 months old & a real stinker. She still is. She will be 1 year 10 months old December 10th. She's always been nippy/pinchy & is very destructive. She goes thru toys like a buzz saw. She bends metal chain links open, snaps thick acrylic, breaks coconuts, etc. Yesterday she snapped a piece of metal off a toy. She's figured out how to undo both latches on her cage door & get out. Both latches have to be undone or the door won't open & they are around 18 inches apart. She figured out if she hangs upside down she can flip the latch up, slide it over & then do the 2nd one & the door will open. So now we have to lock her in with a key. She can't bee trusted, like JaJaBinks could, as she will eat my house. I hope in time she settles down some & eases up on her destructive ways. She has learned a couple tricks. Rollover, wings up & a sort of hop. She lays on her back a lot, even in the shower. If she isn't laying on her back she's usually hanging upside down. She will step off a high perch & rollover onto her back onto my hand. She is high energy & hardly stops moving. She last weighed 1074g. JaKhu was heavily clipped when I got her & had terrible balance. Once her flights molted & grew back in I had hoped to do recall flight training. She's only flown across the room twice. She refuses to fly. I've tried putting a harness on her several times, but it's a no go. She hates it with a passion. Due to Covid restrictions I wasn't able to socialize her, so she will only let me pick her up. Here's a few pics of her:
August 21, 2021 4 months old. Ripping up a hibiscus flower.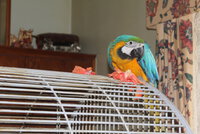 Laying on a foot stool. she stayed like that for several minutes.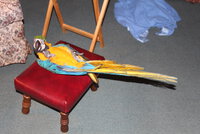 Christmas 2020....yep on her back as usual.