These birds have been my family for 14 and 12 years respectively. Please, do not send me any unkind messages. This is the hardest decision I have ever had to make. I promised them a lifetime and am thoroughly heartsick to break that promise, but I have looked at the situation from every angle and I am simply out of options. This is truly the least selfish path I could take.
Zyda is a 14-year-old red-bellied parrot female. Light of my life and a seasoned criminal. If she cannot find trouble, she will make it and she has never been sorry a day in her life. She is bright and opinionated, as well as quick to determine friend from foe with very little room for changing her mind. She enjoys shoulder privileges and demands scritches on her terms. She is a generally quiet bird as far as parrots go, but like all in the poicephalus family, has an ear-piercing beep of a scream that is not unlike a fire alarm and will make this known several times throughout the day just for the sheer purpose of making noise. This is, in my opinion, the worst sound between both birds. Her other sounds are a collection of beeps and mumbles with a few discernible words here and there.
Sound profile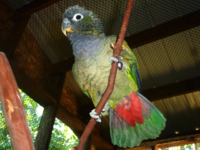 Rowan is a 12-year-old maximilian pionus male. Stubborn and opinionated. He does have a softness to him, but nothing interests him so much as following and doting on Zyda. He is very mechanically inclined and has been an escape artist in the past. While he cannot properly reach to unlatch his doors from the inside, his favorite trick is to unlatch the feeder doors of his cage while he's out to aid in his escape in the future. He's a stubborn and mischievous pest who demands patience and understanding as he tests limits, but he is also incredibly smart, picks up on commands swiftly, and would do very well with more consistent training than I have recently been inclined to offer. In the past, I have trained him to go into his cage on command, step up onto a stick, wear an Aviator Flight Harness, and fly to me on command. He is decidedly rusty for the reasons I will get to in a moment, but could relearn these with ease.
Sound profile
These birds are bonded and MUST go together. They also MUST go to a home where they will 100% NEVER be clipped. They have been fully flighted their entire lives, they're very good at flying, they trust their wings, and clipping them at this point would be cruel and confusing and leave them wide open for injury or death from falls. (Saying that like I'm ever okay with wing clipping for any bird at any age for any reason, lol. I'm very much not. Kindly close out of this post if you think wing clipping and physically modifying the bird instead of the environment is ever acceptable; you will not be considered and it's a waste of both our time for you to continue reading)
Other strict requirements are
- Be willing to complete an adoption application
- Non-smoking/vaping/etc. No incense burning, no air fresheners, no essential oil diffusers. If it releases smokes or scents or vapors into the air, it has a high chance of killing the birds.
- No PTFE/PFOA/PFOS non-stick cookware or appliances. Your safe options for non-stick are cast iron, ceramic, and blue steel carbon. Commonly forgotten sources of PTFE/PFOA/PFOS fumes are heaters, irons of all varieties, hair dryers, and reptile heating lamps.
- No predator pets that will have any degree of access to the birds. Please have a dedicated room with a door to close your cat or dog or ferret or whatever other animal you have out and away from the birds at all times. Your cat should not be allowed to watch the birds, your dog should not be allowed to sit with them, etc.
- Have a Certified Avian Vet at your disposal for checkups and emergencies.
As for why I'm rehoming them (and why they may be rusty on their previous training) - I've moved. It was sudden and jarring, it wasn't how I wanted, and it's a far cry from ideal. I am not safe or comfortable to disclose more than that on a public forum.
Since late November, the birds have both been in the care of some kind and wonderful fosters while I've worked on stabilizing myself, saving to afford to bring them home to me, and trying to ensure an environment in which they could thrive.
Despite my best efforts and dedication, I have failed. I cannot rationalize making them wait longer when I have no sureness for even my own future, and to forgo any preparedness and safety on their behalf just to bring them home preemptively would be both selfish and irresponsible. It tears me apart to admit that I am simply not what is best for them anymore.
These birds are and have been my whole life and purpose. I do not make this decision lightly, and ask that anyone who might consider adopting them do so with the understanding that they are a high time and energy cost commitment. They are not living décor, they are not animals you can feed and water and keep caged and ignore, they are highly intelligent exotics who will get into trouble, they will be loud and messy, they will break stuff, and they will bite, and if you are patient and good to them, it will all be worth it.
I hope I can find someone who will love them as much as I have.
I have decided to forgo the usual rehoming fee, and ask instead that their new home be willing to provide the following:
- Proof of purchase or construction of a suitable aviary, such as the Natural Inspirations aviary with ½" bar spacing.
https://naturalinspirationsparrotcages.com/products/walk-in-aviary-medium-86x62x80
Please note that home-made aviaries must be secure and not use galvanized wire. Whether this is for outdoor use or indoor as their primary cage is your call, but I need to know they'll have ample room to fly. If it is NOT their primary cage, then they will require separate cages for safety, as they are different sizes and misunderstandings can escalate too quickly without space to themselves. They are currently in two
You & Me standing parrot cages from Petco
, which you are welcome to have if you are local and want them, but it's worth noting these cages are very old and worn by now and I'm frankly not certain they'll survive another disassembly and relocation.
- Proof of purchase of $200-$500 worth of parrot toys, perches, and food.
I have seen many arguments that rehoming fees exist to prove that the new owner has the means to pay for the animal. I'd rather have that proven by putting the money directly into the animal's care rather than acquisition.
I am willing to ship them to the right home at the adopter's expense.

Diet:
Free-fed ZuPreem, with added veggies.
Favorite treats:
Nutri-berries, baby carrots, banana chips, cheerios, corn flakes, apple slices, jicama. Sunflower seeds and unsalted nuts/peanuts are fine in moderation. (Note: Zyda doesn't like getting her feet wet/sticky so will likely refuse to hold a lot of this and requests you to hold it for her.)
Toy preferences:
Rowan likes sticks and daintily snapping things, so willow balls and the like, while Zyda is a professional woodchipper. I will provide the contact information of the toy maker who best knows their preferences.
Noise:
Generally pretty quiet throughout the day, but they are still parrots. Mostly they just beep and squeak conversationally. Sound profiles are linked beneath the relevant photos above and I encourage you to listen to them at full volume to get a taste.
Behavior:
They're bonded, but they are entirely different species and run into some miscommunications as a result. Zyda is bossy and bratty, and Rowan is her defensive and doting doormat. He will preen her, she will very rarely preen him and usually prefers to leave him hanging and sad looking. Their relationship is not a healthy one by any means, but they've been together for over a decade with no serious altercations.
Sometimes they get a little more involved with each other than anyone wants to see, and for that I'm very sorry. You can just leave them to it. Rest assured Zyda has never been nesty or laid eggs, and I don't expect her to start.
When he feels Zyda is ignoring him - and he's usually right - Rowan will dance about anxiously: rocking back and forth and turning circles with his head up. He's fine.
Rowan will sometimes fly down to strut about on the floor, often backwards. He'll usually fly back up if approached. Zyda, however, doesn't like being on the floor at all.
They both readily step up on a perch. I recommend this for Rowan especially, as he WILL bite. He's not overtly aggressive, and isn't gonna be going out of his way to hunt you down or anything like that, but he is defensive. If you're not comfortable handling him, use a stick to transport him and he'll be just fine left hands-off until more trust has been cultivated. He's a sweetheart once he warms up.
Zyda is considerably more friendly and is used to having shoulder privileges. She's very good about stepping up. She'll likely demand head scritches at some point. Don't let her sweetness deceive you, however. If she is left unattended, she will absolutely cause problems on purpose. They will both destroy anything they can get their beaks on but Zyda is especially good at it.
They'll fly laps around the room occasionally but are usually pretty good about stationing back where they started. They're both very fast and Zyda is incredibly agile, able to hover and turn on a dime and land in the most unlikely places.
They're everything to me. Please help.
Thank you.