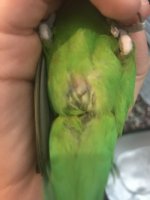 Hi! I'm new to forums, so I'm not sure if I'm doing this right, but I'm concerned about my female lovebird...I can post a picture, but it was very hard to get a good one. Her abdomen seems to be slightly enlarged...it looks like she has a lump above her cloaca...
A few months ago, I took her to the vet because she was weak and I thought she might be egg bound or something related. She has no mate, so her eggs are infertile. The vet felt her abdomen and thought she had an egg. He recommended Lupron to prevent her from laying any eggs. It helped, however she was still nesting constantly at the bottom of her cage. She stopped nesting now since I moved her to another room and keep her in the dark for longer hours. I've had her for 9 years, since she was a baby, and egg laying has never been a problem. I think her poops are kind of smaller than normal and I've got her regurgitating at times. There were a few times where I thought she was struggling to poop, but then I noticed fresh ones so thought she was fine. Otherwise she's behaving completely normal. She just stopped the Lupron. I wish there was a way for me to tell if this possible lump is related to her nesting/egg laying or something else. I've spent so much money on my birds in the past couple months, more than I have in the entire time I've had them. Things just keep popping up, and I haven't changed anything. Sometimes it's nothing the money I spent only offered me peace of mind. It doesn't help that I worry all the time.
Anyway, even though I'm worried about my Lovebird, Petey, I also don't want to jump to worst case scenario. Maybe she's still nesting? She preens herself often when I come near the cage. Does tricks for me (perch flips, head bobbing). Her nesting is extra intense this year compared to others years, where it was no problem. Has anyone here had any similar experiences?