Rollerblading along the road
Joined

2/4/23
Messages

1,642
Real Name

Heather Gerbyshak
The Sola balls were an immediate hit and now resemble popcorn on the cage floor.
I'm organizing and found some really thick cardboard. I think I'm going to either weave some strips through Jasper's cage bars or maybe pierce them and hang in her cage.
Yesterday was bath day and both birds REALLY ENJOYED their fountain bathtub. Jasper will still not hop into the basin but got herself and the bathroom quite wet with her bathing.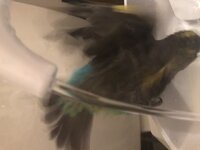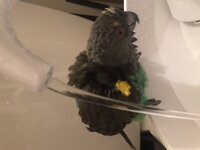 Last edited: