Joyriding the Neighborhood
Avenue Veteran
Celebirdy of the Month
Joined

11/9/11
Messages

18,475
Location
Well its our 2 week anniversary!

Penny had a major breakthru this weekend.

She is stepping up & hanging out!

Last night for the first time she choose her new flagstone from @Danita to make her sleep perch!!!!




She was up there last night when I went to bed & she was still up there when I got up!!!

Snapped this photo this morning of Ms Sleepy Penny...




Now both my birds seems have discovered the joys of the platform!!!

Rio has been using a basswood from Danita for about 2 years & its his most coveted possession!!!

Making some corn muffins & I got an idea next time I will make one just for Penny & put is some extra birdy goodies...(Rio Excelejante does not eat these things...we try but he does not like my cookin)

Well better check those muffins!!!!

Yummy...Penny likes!!!! She gets a few chunks from the top without butter!!!

Stone ground coarse corn meal with no flour just eggs baking powder, soda, buttermilk & spoon of honey...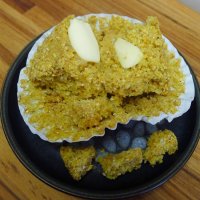 Last edited: