First, this is my first post so I hope you'll bear with me.
This is Peewee.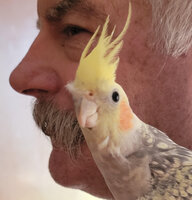 I had wanted a cockatiel and a friend of my wife told her she had a cockatiel that had injured it's wing that I could have.
When I got Peewee I was told that the injury had occurred 5 or 6 weeks before and Peewee was acting normally.
Here's a picture of Peewee's wing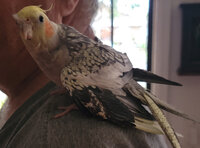 I've had Peewee for about five and a half months and beside the wing she (I'm assuming Peewee is a girl) seems perfectly normal. She climbs all over her cage (she's out of her cage about 10 to 12 hrs a day), plays with her toys, stretches and flaps both her wings, and tries to fly but she can only gently glide to the floor.
I feel really bad for Peewee but she seems perfectly content to sit on my shoulder or climb all over her cage all day and shows absolutely no discomfort.
I'm torn between seeing about fixing her wing which I'm afraid would cause her too much stress, or letting her keep enjoying herself as she is.
I'm wondering what you would do in this situation.
Thank you in advance for your help.