Rollerblading along the road
Avenue Veteran
Avenue Spotlight Award
Joined

12/6/10
Messages

4,735
Location
Real Name

Lindsay
I usually just post about my birds (this being, yanno, Avian Avenue), but I am first and foremost a cat person. In addition to four adult cats (Spook age 16, Emory age 12, Julian age 8, and Toby age 7), I have a 9 month old kitten, Finnian, whom I adopted in January when he was a wee one.
He's beautiful and endearing, but still a rambunctious kitten who bites, plays, and bites and plays some more.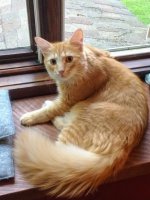 Now this past week has brought 5 more kittens into our house. I've tried to get help for several cats that live at work for a while now, but all the rescues are full (my closest large rescue currently has 214 cats!!!), and the TNR groups super busy, so I realized I'd have to do it myself. I successfully caught 5 of 6 kittens (from 2 different litters), and will be trapping weekly until I get the adults fixed for TNR.
First kitten I caught solo, from the older litter of 2. The rescue I was getting advice from said they might be too old to socialize easily (they've had no human contact at all prior to being trapped) so I took her to a clinic the day after I caught her to be spayed and eartipped for release, not intending to socialize her... but she went from a terrified, hissy kitty to a little lovebug in a few days.
Right after her surgery...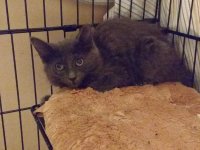 Begging to be picked up a few days later!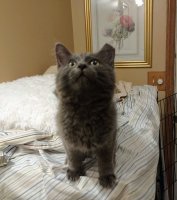 Who is this purring angel?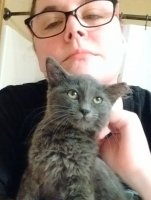 I caught the younger litter on Thursday! They are hissy also, but a little more relaxed. They'll eat from a spoon and I can get away with petting them as long as they're eating!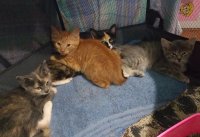 I feel like I'm running on empty right now... and spending all my money on cat food...! But it will be worth it in the end once the little stinkers find their forever homes instead of spending their lives on the streets!