Rollerblading along the road
Mayor of the Avenue
Avenue Spotlight Award
Joined

6/6/20
Messages

2,088
Real Name

Destiny
My mouth is hanging open in amazement! I am so happy for your achievement. If your budgies are as pretty as your other birds are wow! Are you in a cold climate during winter? Is there a lighting system?
I live in a temperate climate. It gets cold in the winter and we occasionally have snow or ice, but it rarely stays below freezing for prolonged periods. Likewise, our summers are relatively mild. We have hot days, but temperatures rarely stay over 90 F for long, even at the height of summer.
When designing the aviary, temperature control and draft protection were major considerations. I was more worried about it getting too cold, rather than too hot. The clear plastic paneling does not provide much (if any) insulation, so heat will be lost quickly through the roof and walls. I gave serious consideration to fully insulating the aviary so I could heat the room more easily during winter, but it wasn't possible without completely rebuilding the walls and roof. However, I didn't want to lose the natural light or tackle reconstructing the entire roof.
So rather than trying to insulate the entire structure, I decided to make a smaller box with perching space that could be insulated and heated in winter.
There are two windows on the back wall of the aviary. In the leftside window, I installed a thermostat controlled ventilation fan to vent hot air in the summer. The fan and window are covered by black wire mesh to keep the birds safe.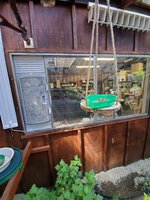 On the other side, I setup a pair of cages on a shelf outside the window and built a wooden box to fit around them.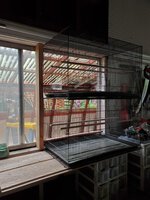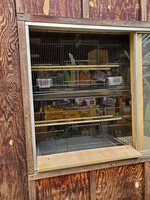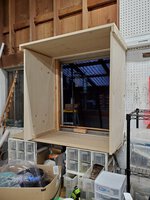 In the winter, I will be adding additional insulation and using a heat panel with thermostat to keep the box comfortable for the birds. I'll also be covering the outer windows with plastic sheeting and blocking off any other sources of cold drafts.
In addition to the insulated box, I plan on setting up some kind of radiant heat inside the aviary for the birds that don't want to go inside an enclosed space, so the main perches are covered.
Without insulation, it will cost more to provide heat and it won't stay as warm, but I think it should be enough for my climate. If we have an unusually cold winter, I may need to move the birds inside, but I don't expect it will be a problem.
....
As for lighting, I use natural light during the day and I plan on adding small solar lights as "night lights" for the birds. I also have installed two shop lights that I can switch on if I need more light at night time. I mounted the lights vertically on the wall next to the two windows. The other one can be seen in the earlier photo next to the fan.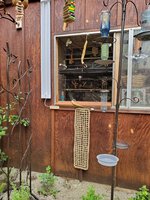 Last edited: