Sprinting down the street
Joined

11/23/16
Messages

505
Id love to to make this a little picture thread of other than bird pets ! If you only have birds, feel free to enjoy what others post
Post pictures, names, and a bit about your animals! I want to hear about what y'all got going on!
Here's mine...
Oswin
/
Veiled
Chameleon
. I've had him for 2 years, and he's got a lot of attitude..
Pinot
/
Ball
Python
. I just got him a little over a week ago, he likes to strike at random things, giving me too many frights
Pearl
&
Havana
/
Daushund
&
Chihuahua
mix
. They're both the best ever, Havana is easily frightened, but does well with known people. Pearl just got a tumor removed with cancer, but is now cancer free!
Jim
and
Jimmy
/
Leopard
Geckos
. I'm not sure how the names arised but they're so cool, and like being handled.
(More on the bottom)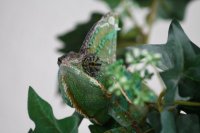 Biscuit
/
TeddyBear
Hamster
. Cute little girl from a close by shelter, partially blind, and very fluffy .
Corndog
/
Guinea
pig
. Bought her rehomed, very noisy, but loves little pets here and then.
Also got 2 fish, Molly and Beta, they're pretty cool. My beta will jump a bit out of water for food so that's pretty awesome
Edit: Sorry the pictures were being weird,only got a few to go in full