This just popped up on my Google pictures, it was taken a year ago. And wow, so much has changed in 12 months, more notably, the arrival of all the young birds.
In just one year, we doubled how many birds we have. That's a lot, I only see that now, looking back.
But still, as noisy as they are, I don't regret keeping any of them and love them all equally


Ps, that's my concentrating face, because I actually used to think that taking a picture with all three birds was quite the task... Ahh those were the days!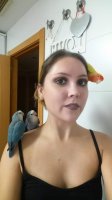 Left to right, Jaime, Aldora, Sydney.



Lapis and Nubes eggs were laid about 2 weeks later