Rollerblading along the road
Joined

1/18/17
Messages

1,713
Location
Real Name

Melissa
When I was little we had a 10g aquarium, after several years we put it away because already would build up very quickly, you couldn't see inside only a week after cleaning. Two years ago we set it back up thinking that maybe it would be fine, couldn't even keep the fish alive long enough to find out. Tried several times over the course of a year, but ultimately ended up once again storing it.
I thought it would be cool to get a lizard, I wanted a snake, but snakes are forbidden in this household. Once I get my own place though!
I forgot about the spare, should be trashed tank, and was just going to wait until the fish in my current 10g died. That would have giving me plenty of time to think about it, do some research, all that kind of stuff. Two weeks later I remember the spare tank, and cleaned it out. I set it up today, and got a lizard. He(?) Is a golden gecko. I named him Paxson, Pax for short.
I was going to get a leopard gecko, but they didn't have any, so I got the Golden.
I bought a screen for the top of the tank, good thing too. That little bugger is fast, I new that they like to climb, and are kinda fast, but I wasn't expecting that. He literally ran all over the tank sides before jumping to the screen lid. He then just hanged there for a bit before climbing down.
Unfortunately there are a couple things I still need to buy, like a hide away, since I couldn't find one anywhere. I'm also going to get another spiderwood (I have one) and some plants. Going to make it look pretty!
I felt bad for not being able to buy a hide away yet, so I cut a plastic cup in half, now he has two! It's just temporary, I'm afraid that the heat from the lamp will warp the thin plastic. I also thought I had a spray bottle, turns out I don't, at least not a working one! I can get one tomorrow on my way home from class.
He will have a much better enclosure soon! I just hope I'm able to find a hide away, maybe an aquarium decoration would work?
I'll also have to get crickets at some point, he is currently being fed a freeze dried bug, veggie, and fruit mix.
I love Pax already, he's adorable.
I don't have a good photo, but here are some that I took anyway.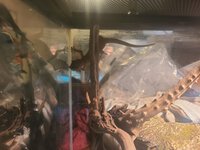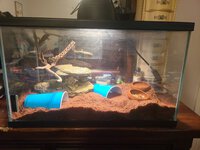 Don't judge too much, I have an old aquarium decoration in there, two halves of a plastic cup, and a spider wood (which I love btw) I will see what the stores have tomorrow, hoping they restock and I'll be able to find something. I also have to get something that will support the lamp, I thought it came with a stand or something, but it was just the dome. It just sits there on the screen and I'm afraid that my little Pax will burn himself.