Biking along the boulevard
Avenue Spotlight Award
Joined

4/16/20
Messages

8,040
Location
Real Name

Alistair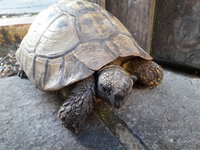 This is Speedy, our Marginated Tortoise. She came to us as a rehome just before the beginning of lockdown in March. Her elderly owners were being put into care, and we were contacted by a friend of my grandparents'. We decided to take her, she was just coming out of her hibernation when she arrived, so it was a crucial time to get her out of her home. Speedy is now starting to slow down as we anticipate she will go into hibernation next month. We are not sure on age, but we guess she is in her 40s. She lives outdoors and comes in for hibernation. She has free roam of the entire garden here and next door (which is our grandparent's house).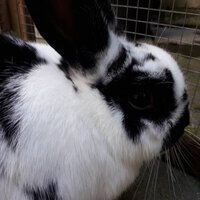 This is Squiggles, one of my sister's rabbits (yes, the name is not my fault!). He is now about 4 years old. I can't remember his breed at the moment, but if we have any rabbit experts, I'm sure they could tell us! He live with Bouncy in an outdoor hutch and run. They are quite friendly, enjoying a brush and a stroke, but don't really enjoy being picked up.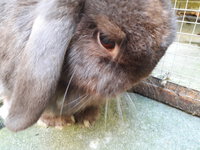 This is Bouncy, my sister's other rabbit. He is also about 4 years old. I may be mixing up the two rabbits here, but I think that he is a Netherland Dwarf Lop eared rabbit (a bit of a mouthful!)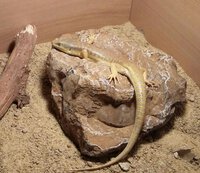 This is Alex, one of my Berber Skinks. Spot lives with him, but I don't seem to have any pictures of him. We don't know genders, but believe they are both the same. As you can see from the picture, Alex has a different coloured (patternless) end to his tail. This is because before we got him, he had dropped his tail. When it re-grew it just didn't come back with the same patterning. They live in a large vivarium, heated to a glorious 26+ degree Celsius all year round! We have had them for 5 years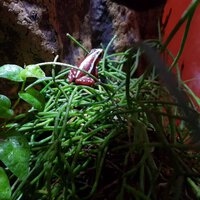 This is either Napo or Chira, one of my four Phantasmal poison frogs (I can't tell from the picture as the pictures of those two are very similar). Currently these two are very fat, so we belive they are gravid (carrying eggs) which will be layer early next year. The other two were not named by me (Froggy Mcfrogfrogface and Frogbert). These are believed to be both males. They came here in the August of 2019 and live in a large bioactive Exo Terra terrarium. We hope they will breed successfully as they are Vulnerable in the wild.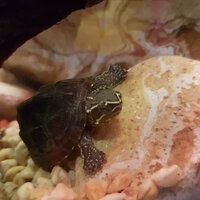 This is Kasana, the Musk Turtle the day he came home. We have had him for 3 years from about an inch in size. He is now about 5 inches, and is being upgraded to a brand new tank this week. Due to his tail length, we think he is a male. He is quite friendly, and enjoyed his turtle pellets and bloodworm treats on the weekend!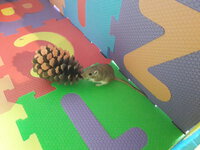 This is Grey, our 4 year old rehome gerbil. He lives in a tank, which is much better for them due to the deeper substrate for building dens and tunnel systems like they would in the wild.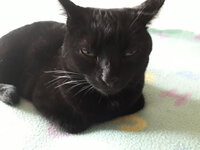 This is Bailey, our cat. She was a rescue this February. She is 3 years old. We don't know her breed as she is a cross and we have very little background on her. She is incredibly playful and loves her toys, particularly lazers.....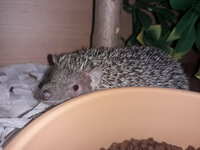 This is Twiggy, our Lesser Tenrec. He is about 7 months old and came how last month. He lives in a heated, natural themed vivarium, which is 4ft long. He tolerated handling well, and like to be out and about in his playpen. You can find more information on him in his seperate thread.
We also have two ponds and an aquarium, but I do not have any pictures of those on this device.
I hope you enjoyed reading about them all,
Ali