Walking the driveway
Avenue Veteran
Joined

4/20/10
Messages

181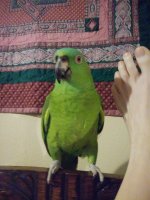 Hello Friends,
I am a longtime member but have not been here for a while and never posted much.
My life changed drastically in 2010 but I kept my zon and managed to take care of her (actually a him but I did not know that in the beginning). Now I have been working 50-73 hours a week for the last two and a half years, and she is not doing well emotionally. She's angry at me when I come in late at night to cover her up. She's angry in the morning and rarely wants her shower. She lunges at me but cries for me to come close.
In years past, she biked and kayaked with me. I had my daughter plus two foster kids who carried her around. She loved to sit on a shoulder and watch the computer, window, or tv. All that has changed and it is so very hard on her.
We named her Principessa and call her Pessa. She has scoliosis and the vet said that's why she does not fly much. She's skinny and prefers to eat mostly fruits and veg with a little safflower seed. I give her dry pasta to crack for fun and a basket of wooden blocks for foot toys. The vet said to give her healthy high calorie treats so I do give her cheese, peanut butter on whole wheat toast, and she loves shelled walnuts.
Of course she sings and talks but doesn't squawk much or make nonsense noise. She usually speaks to make sense or comment on what you're doing.
She says, "Ohhhh boy, I like that" and knows her colors. She calls dogs "Ugly dog" and applies the same label to people she wants to taunt.
She knows one swear word that my ex used to use and I have not been able to repattern it.
She loves to be outside in a cage and chew carrots and celery in a foraging ball. I used to have a garden and grew dill and fennel. The big stalks were great fun when I wedged them through the cage bars. She would chew them all afternoon and watch the dogs and kids come and go.
I am in the far northwest corner of Washington and don't want to ship her.
She needs someone who will be home more and she is very dominant. She flares and sulks around male birds and refuses to talk. She will bite hard when threatened by male birds and angry male humans. She is very attracted to women with red hair but I'm not a redhead.
That's a little about her quirks and characteristics.
Please let me know if you have a home with female birds or just want a male zon who thinks he's a girl.
Appreciatively,
Momazon
Last edited: