Thank you so much!
Jack's going to drill me a hole in the greyhouse this morning and I'll get pictures.
Love the door sign!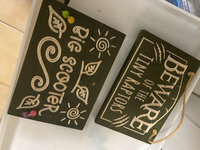 either my girls were trigger happy with the spray bottle or it's the humidity but the JoJo and Chickie sign alas is all run together. I suspect the former
. The door sign will be safe from overzealous cleaning!