Joined

1/26/20
Messages

10
Hello Avian Avenue, it's been a while! Hope everyone and their birdies have been doing well.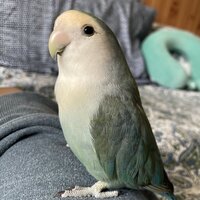 My lovie winnie and I have been together for two years now, and he's a demonic lil rascal but I love him! He has two cages, one large flight cage and one medium cage to sleep in at night. He has tons in both cages, mostly only foraging toys in his larger cage (because that seems to be all he's interested in)! He comes outside of his cage 3+ hours a day (~1 hour at a time) to play on a large play area I set up every time he is out.
Recently due to strenuous circumstances his large flight cage is unavailable for a few days and he only has his smaller cage. I feel guilty that is the case, so he's been out pretty much 24/7 for two days. He seems very happy and it has got me wondering if I could get used to letting him out of the cage 24/7. The issue is, he has become incredibly clingy! He does not care a bit about his toys anymore and only wants to bother me, even more so than when he was coming out for only 3 hours a day.
How can I encourage him to play independently, like he does in his cages? Toys that are interesting in his cage don't interest him out of it. Is this 3 hours a day to 24/7 hours a day out of the cage too big a change too fast, is that why he's struggling? I want what's best for him but I do also have to work (at home) to keep up with his expensive tastes in food and toys ha ha!
Thanks for all the help! Sorry if the post is a little long, I wanted to get as much information out there as I could in case it helps.