Lil Monsters Bird Toys
Super Moderator
Vendor
Avenue Veteran
Celebirdy of the Month
Mayor of the Avenue
Avenue Spotlight Award
Avenue Concierge
Joined

8/9/11
Messages

35,134
Location
Real Name

Shawna
Hello everyone
Lil Monsters is offering 10% off for the sale! There are no restrictions on that 10% off either - it does apply to clearance and foot toy grab bags!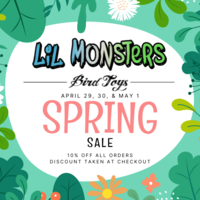 ​
New Items
I will be adding some new items to the store either Thursday night or Friday morning, so make sure to look at the
New
page before checking out! And, peek at the
seconds & clearance
page too, as I may sneak some goodies in there, also



Worried something special will go out of stock before you complete your order? Put it in your cart and checkout with the "SWS shopping" payment option for all your SWS Shopping orders! This will hold your items and then I can invoice you later with a combined order
Shipping!
I have been averaging 10-14 days for orders to go out but please know that sale times are busy and I may not be able to do them all in that time frame!
I offer UPS and USPS shipping for the US, and USPS shipping worldwide. Current statuses:
I
CAN
ship to Australia, but only First Class International up to 4 lbs, and Priority Mail Express over 4 lbs (luckily, balsa is light
)
I
CAN
ship to Germany now! I am officially compliant with their packaging laws
I
CAN
ship to the UK now!
However
, please note that there is a $177 USD minimum order for me to ship your order. Why? Because on orders £135 and under, I have to collect VAT at the time the order is placed and remit the fees myself. Which I would love to do! But I keep getting rejected by HM Revenue & Customs. Since orders over the threshold are collected at the time of pickup from the customer, this gets around the pesky fact that the UK doesn't want my money
I
CANNOT
ship to France because of packaging laws
I
CANNOT
ship to New Zealand due to current postal office restrictions.
Any other shipping questions? See here:
Shipping Info
I do have some balsa and a few other parts I am low on coming in the next couple of days! If there is something that is out of stock that you are curious about, let me know and I can see what is going on with it and see if we can put it in as a back order
Twister Skewers however I do not have, nor do I know when I will have them again.
Anything I missed? Let me know below or send me a message
Happy shopping!
Last edited: