Jogging around the block
Avenue Veteran
Joined

3/16/10
Messages

742
Location
Real Name

Brice
Okay so this was NOT planned at all...


A few days ago i got a phone call from a friend :
​

Friend- "you want a cockatiel !?"
Me- "Um hello to you too" (not sure what's going on)
Friend- " im Busy don't have time just answer the question"
Me- "Can i at least have a bit of info on the situation and the bird, please??"
Friend- "it's my work collegue's daughter's bird, she left it at her dad's when she moved out, he doesn't know what to do with it"
Me- "Well is it a male or female ?, how old is it, is it hand raised and tame at all ? how old is it ?

Friend- "don't know, don't know, yes it is tame and i don't know"
Me- um...
Friend- "i don't have time for this so YES or NO ? (friend is getting impatient and clearly annoyed)"
Me- uuuuuh ... uuuuuh .... OKAY
okay fine OKAYYY !"
Friend- "ok let's talk later" (she hung up !)

So after that phone call i was still not sure what i got myself into, the thing is that i promessed my fiance no more animals, and i just agreed to adopt a cockatiel that i have never even seen and didn't know anything about !!!


A few hours later i finally get to talk to my friend and ask her if i can have the guy's phone number;
i call the guy and i finally get a bit more info about the bird:
​
-maybe a girl
-about 2.5 years old
-very social
-only eats Budgie seed mix
-he doesn't know much about birds so since his daughter left the cockatiel spend all day long in "her" cage and doesn't get much attention, apparently she's calls all the time to get out and interact with people. He feels bad for her and That's why he is trying to find her a new home.

we agree for him to drop her off with all her stuff at my shop (i own a dog grooming salon)
when i saw her i thought she was just so cute
!!
I then realised that her cage is way too small for her, with only one old chewed up toy and a few cheap perches ...


Anyway i have a new feathered baby

so can you guy's help to confirm her color mutation and gender ?? (if that's even possible)

After some research i think it is a She and the color mutation is : cinnamon pearl pied (what about you guys ?)
(ps: Yes she has a beak difformity and Yes i will make a thread about it)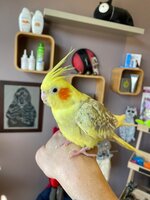 ​