I came to the realisation yesterday that Adelie and Sydney don´t use the swing (the one I lowered for Adelie in her prev. cage) at all. So it is taking up space that I could use for something else. I was thinking about ordering a platform swing to see if she liked that more, but I also had pulled an old hanging climbing frame we don´t use out of the cupboard to give to Charlie... and then I thought, If I cut the bottom line off the climbing frame, I can string the wood together and make my own swing - so that is what I did. The climbing frame was quite large, so being a little smaller will work better for Charlie (who lives in Adelies old cage).
It was really easy to make, I lined up the four wood pieces, thread strong wire through, looping a SS ring on each end to keep the wood from unthreading.
Then using leather ¨rope¨, I tied the two pieces in a knot with an O ring threaded on, then added some beads, then tied the ends onto the SS rings. I had to adjust one of the strings as it was higher than the rest, but more or less it was perfect first time
I have seen Adelie sitting on it this morning, so it has already been used more than the swing ever was in this cage.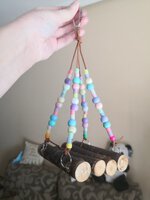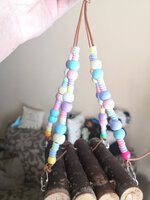 Adélie instantly eyeing up the new swing,