Rollerblading along the road
Joined

10/12/17
Messages

2,866
Location
Real Name

Garet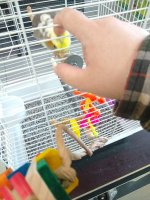 He's a rescue at the shop. ;_____;
Sadly (for me) he's already adopted, but I'm glad I got to give a tiel scritches. Mims would have killed me if I tried to pet her like this. I think I spent half an hour just giving scritches after he bowed his head and asked for some. Then he came to the other side of the cage and asked for more while I was looking at this sweet lovebird and his parrotlet neighbor.
I'm not coming home with any new animals, though my brother is. He bought a lil noodl.
I wishhhhhh that tiel wasn't already taken.