Rollerblading along the road
TAILGATING!!!
Joined

11/23/19
Messages

1,630
Location
Real Name

Doroteja Lenassi
... That's what I've named the primary 3 flight feathers.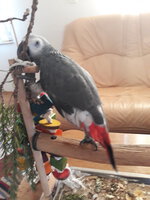 I would never, never in my right mind clip a bird. Never. And worse yet do it at home, without the necessary expertise.
But that is exactly what happened to Loki.
I really regret supporting this "breeder", from whom I bought Loki. Guys you should've seen it.. The deplorable conditions these birds were kept in...
But there he was, this little creature who shoved real interest in me.. I just couldn't help myself.
I find some solace in the fact that at least one of the who knows how many thousands has a good home.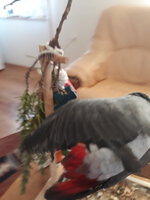 For some reason the breeder decided it would be best to cut off all feathers on the bottom third of Lokis wing. I asked about it, but they said they just don't know what happened.. As if.
When something really scares him he takes off (to save his life), and spirales to the ground, chrashing. When he straightens he looks all confused.
The first time it happend I sat down near him and sarted crying. Loki asked to be picked up and huddeled with me. Through my tears I whispered more to myself than him: "Not much longer, nut much longer now!"
All I see is a super inteligent animal, that is fully aware of the fact that he can not take flight if needed.
Sometimes, after a fall he literally bites at his left wing, the angry lunge kind of bite, 2, 3 times, clearly showing he understands what is hindering his flight.
When he wants to follow me or my boyfriend into another room he readies himself, spreads his wings, flaps a little but gives up and shivers. Not the shiver before puffing up. It is a shiver of hoplessnes. He could climb down... Never does. I guess he doesn't feel safe enough yet.
To make matters worse he isn't allowed on high places, per order of the vet, as the risk of him falling and injuring himself is just too great. This just adds to his insecurities.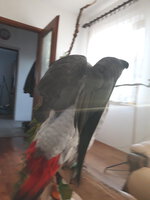 The clipped wing has made him feel insecure, stressed and worse yet he sometimes gives up a fight before even attempting.
I see the appeal of clipping, a lot less effort is needed to achieve the same goal, plus you don't need to bird proof the upper levels of any room...
To me it is just so unfair to the bird...
Flight in birds took milions of years to develop, I don't belive we have the right to take it all away in the matter of minutes.
But I have Hope.
One day, very soon, Loki will have at least the Illusion of Freedom.
He will know the Joy of flight.