Hi everyone!
My name is Stephanie,
I have joined to get more information on birds, and because I love reading about them and learning more.
I just got two scaly lorikeets about five days ago, they were not hand raised, I have no idea how old they are, I'm sure they are young.
In the past I have trained lots of Conures for family members and have had two rainbow Lorikeets in my care for a few months.
To be honest Lorikeets scare me because they can be aggressive and there behaviour is a little different to parrots. I am wanting to hand tame these scaly Lorikeets, I have
never tried this before with birds that were never hand raised, but i'm so excited to bond with these guys and I realise its probably going to take a long time.
My partner doesn't want them because he just wants birds he can cuddle but i'm so ready for this challenge.
I'm going to start by not trying to tame or touch them for two weeks so they can get use to their environment. Then ill start with putting my hands on the cage for an hour a day maybe twice a day, then eventually putting my hands in the cage for an hour twice a day till they get use to my hands. then try and feed them treats from my hands and so on.. (the amount of days i do it will depend on the birds).
Already I read to them every day not to close to the cage so they can get use to my voice, its day five today and they are finally starting to eat the fruit and veg I put in their cage. they are starting to jump around and run everywhere a lot more so they are slowly getting more comfortable with the cage.
I believe in spending a lot of time with birds outside the cage. My partner and I made these awesome bird perches for the wall so when I finally train these Lorikeets we will have a play gym for them on the wall. I also love training birds so eventually i'll make other stands for them to use around the house. Let me know if you would like to know how I made them and if you want to see the end product!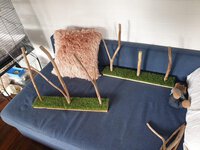 I told my partner he could name one so of course.. he doesn't know what to name it. so I named the front one in the picture 'Yuto'. And the other is yet to be named Haha.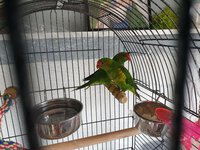 Also I have two separate food bowls for them both and they both eat from both (with the lorikeet powder).
Thank you to everyone who post things on this forum.
Lots of love to all the birdy owners
Stephanie out!