Joined

4/8/21
Messages

11
Hi, I'm a first time owner of a lovebird; his name is Kumquat & I got him around 2 months ago (untamed, from a pet store).
Currently, I'm still new to learning caring for a lovebird -- anyways getting straight to my point, around last week, I noticed a small hole (around the size of a needle) slightly above his beak.
Some pictures: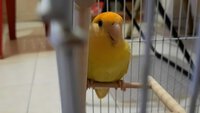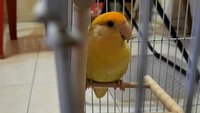 * I observed his behavior & he doesn't seem to be in any form of discomfort nor pain.
However, I'm still concerned as
- I'm not sure how he got that injury(?) from, as he lives alone in the cage so it couldn't be from a fight.
- When handling him & letting him out of the cage for "play-time", I'm careful & do keep an eye on him just in case.
- I tried searching through other online forums for a solution/an answer to no avail.
Hoping someone here would have an answer/a solution to my concern, thanks!
P.S:
Should I bring him to an avian vet, just in case?