They call Me crazy like its a bad thing!
Administrator
Avenue Veteran
Celebirdy of the Month
Avenue Spotlight Award
Joined

10/15/09
Messages

11,656
Location
Real Name

Bonnie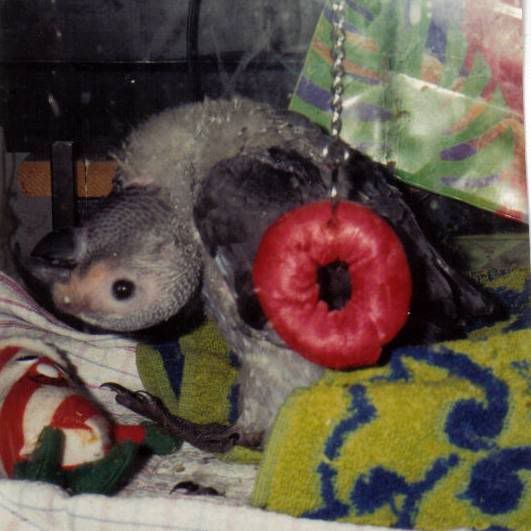 Many of You have already read this story(And I do not expect You to go through it again

J

But I'm hoping there will be a lot of New Roadies that Have Not. Gemini was 15 years old when I wrote this, She is 19 Now And still The "Grand Madame over the flock
I'm going to put this Up- Perhaps a Chapter or 2 a day-so as Not to Bore anyone
So without further rambling(I have done a wee bit of editing because of the time that has elapsed since I originally wrote this

J




I'm going to try to write" Gemini's story as condensed as possible ,so as not to Bore anyone that Reads it and because I just cant type for long periods at a time(another story in itself-LOL)




OK-here goes---When I bought Gemini-she was supposed to be 5 and 1/2 weeks old-OK This is Gemini when I opened her Travel case at the airport!





Her Eyes were NOT even open yet and she still had remnants of her EGG TOOTH!
I had Never seen such a YOUNG Grey ,but I sure as heck knew that she was NOT 5 and 1/2 weeks old. OK so we(My daughter and I with Gemini and HER Baby Grey-who actually did appear to be the 11 weeks old that the Breeder said he was Rush home to feed them. Already I'm noticing that She could not hold her Head up BUT Thinking that maybe its just normal for her age! WELL Her first potty was tinged RED-OK so I already Know that I know more about birds in My area then any of the Vets-SO I'm on the Phone from one side of the country to the other trying to get info from Breeders-Such as Weight charts(nobody kept them 19 years ago-Not much help there) But they did confirm that she should be able to hold her head up. And that she had to have some kind of sickness(the blood in the stool)I Finally-after 2 days and 2 VERY LONG nights with Gemini sleeping on My chest in a blanket-so that I could feed her every time she awoke)Located a so called avian Vet 100 miles away. Well $150.00 later -I find out that Gemini is indeed less then 2 weeks old(can You Imagine that she even survived the Flight from Fla to NY)That she does have something wrong with her neck--and These are the VETS words" But with-out expensive testing we cant tell what it is-and is it worth it?" OH-MAN-I wanted to HIT HER! She did take Blood and would mail me medication for what-ever Gemini had. Turns out She had E-Coli-I slept on the couch with Her on My chest for 2 weeks ,praying that She would Make-It, and wondering How I could give this SWEET Baby a quality life! I did not know if she would ever be able to even perch ,let alone Feed Herself! GEMINI-Was and Is a Survivor-She ate like a Piggy and Grew like a Weed! This Is Her at 17 days old
By Now ,I had exhausted any means of trying to get ANY info on how to help this baby(No Internet back then) I had thought of Bracing her neck Up-But when I tried to Raise her head it seemed to bother her---OH-Heck No I'm NOT gonna HURT HER! SO I decided to set Her Up in a heated aquarium with toys and all kinds of things hanging from the Top, also Cherrios ,fruits veggies millet ,etc etc under her(ALL for stimulation and encouragement to USE Her Neck-thus develop muscle and control).(See the First pic at the top)My Little fighter continued to grow and develop---Here she is at 5 weeks old
She could raise her head for Hand feeding(because I sorta Strongly encouraged it) BUT when She relaxed, Her Head would be Totally Up-Side down!--OK Everyone-I have gotten to 6 weeks and its a good thing I have condensed(LOL) I'm going to stop for this Chapter and rest my arm--Gemini is 19 now-SO There are MANY Chapters ,Do You really want me to continue
Thanks to any one that takes the time to Read about My Very Special-Grand madam-Gemini!
Bonnie

Up-Date-Gemini is almost 23 years ol

d now
Last edited: