Biking along the boulevard
Celebirdy of the Month
Mayor of the Avenue
Avenue Spotlight Award
Joined

8/9/20
Messages

5,954
Location
So, I copied
@Lady Jane
& bought a cat DNA test which I'm sending in today. Meanwhile, I thought it'd be fun to guess the breeds or regions (Western, Middle Eastern, etc.). For details of how this works see post #64 on this thread:
Inky Updates
Here's the kitty in question, Raphaela Puff!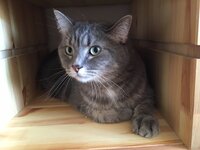 Here are some further details as I'm clearly at an advantage here:
Grey classic pattern tabby
Green eyes
White locket (visible on neck in photo); no other white markings anywhere
Silky feeling fur with long guard hairs
Very short, dense undercoat
Cobby build
I bought her from some students when they couldn't afford vet care. She was very ill. Friends pointed out the online ad. They thought they had a 14-week old kitten. She was actually 6-weeks, so weaned way too young at 4-5 weeks old. Never met or saw pics of her parents, etc. Likely a Kijiji kitten mill kitty.
I'm guessing Western, Persian &/or Siamese. Two family members have guessed Russian Blue. I don't see that, personally. One also thinks Siamese &/or Persian. Her fur is very odd.
Any guesses from the AA cat lovers?!