So as I was browsing my local pet store a couple weeks ago, I came across this little guy sitting at the bottom of the fantail tank. Turns out he's extremely inbred and severely disabled, and the pet shop was going to euthanize him if no one bought him and he didn't improve by the end of the day. So, I took him in.
In terms of infection/illness, he's EXTREMELY healthy. I mean, I have never had a fish as healthy as him in that way, not even my well-bred goldfish have been so healthy. He is super disabled, though. He has a fused tail, a curved fin, such a small inner mouth that I have to feed him baby betta pellets and veggie slurry, a jaw that won't close all the way, NO LIPS, and a large divet in his chin.
Now, he's doing very well! He lives in my main goldfish tank (40 gallons), and is getting long with the others. And man, I love this little guy! He gives me so much hope, and is thriving in his new home! I hope he lives for many years to come.
How the 'divet' works in his mouth. The blue is his 'throat opening'. It does not stop him from breathing, but he will probably need a special slurry 3 times a day for the rest of his life. As you can see, it isn't a tumor, it's just part of his mouth.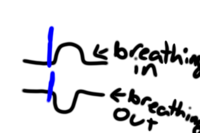 Finny vid!!!
Last edited: