ASK ME FOR PICTURES OF MY MACAW!
Super Moderator
Avenue Veteran
Celebirdy of the Month
Mayor of the Avenue
Avenue Spotlight Award
Joined

4/28/18
Messages

24,023
Location
Real Name

Shez
September 2020 Feathered Estates Highlight

I am very pleased to announce this month's showcased member
Destiny​
1~ What kind of birds do you have and how many birds did you design your setup for?
I currently have fourteen Australian budgerigars (common parakeets), three Lady Gouldian finches, and four Chinese painted quail (button quail). The size and design of the aviary is able to potentially accommodate a much larger population, but I prefer to give the birds extra room to reduce stress and allow the different types of birds to coexist peacefully.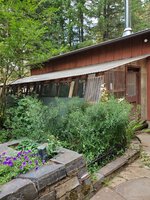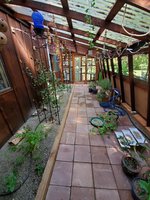 2~ Is your setup for a handicapped bird?
Most of my birds are fully flighted, but a few of the parakeets have clipped wings from before I got them. The feathers are starting to grow back in, but in the mean time, I have included ladders, ropes, and ledges to help the flightless birds navigate around the aviary and reach areas that would otherwise be inaccessible to them. I also have one bird who is not clipped, but she is weak flier. It is likely that I will always need to keep accessibility features available for her.
This is one of the rope perches I made, so the flightless birds can climb from perch to perch.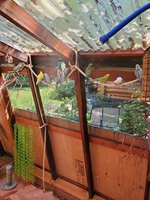 And on the right hand side of this photo you can see some of ladders that let the budgies reach the upper ledges.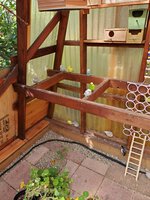 3~ Are there any budgeting tips you discovered while doing your setup?
Honestly, I mostly just tried to not worry too much about the cost. I knew it would be a big expensive project and it was. When possible, I did the work myself and used available materials in creative ways. I built my aviary in an old greenhouse. By utilized the existing structure, I could reduce costs. Also, I designed the aviary to take advantage of existing features, like the raised planting bed and clear roofing.
4~ Is your setup changeable or stationary and do you add or make changes continually or do things stay primarily as is?
It is fully stationary.
I make changes as necessary and will be doing additional modifications to winterize the aviary in the fall.
5~ Where did you find your materials if you made it yourself or where did you purchase the setup and do you have favourite places to purchase safe toys and/or supplies that you find reliable?
The main structure was pre-built, but required extensive modification to make it ready for birds. Most of my construction supplies were purchased from Home Depot or Lowe's. I bought many of my toys and bird supplies online from various suppliers.
I got the manzanita branches for my perches from a website that specializes in centerpieces and also provides wood for aviaries and terrariums. I have bought from them before and have always been pleased with their product.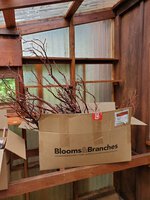 6~ Do you have a favourite item that you bought for your setup?
I really like this hanging platform perch. And so do the birds.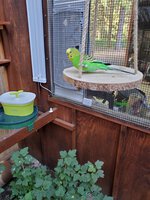 7~ If you made any DIY toys what is your bird(s) favourite and were there any failures?
The coconut toy on the right isn't a homemade toy, but I added the colored chew sticks. The parakeets had a blast destroying them.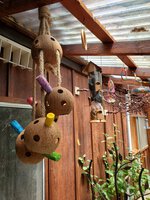 8~ Did you incorporate into your setup any foraging toys and how did your bird(s) take to them and was age or inactivity a factor?
I've dabbled in making simple foraging toys using paper souffle cups. The parakeets were able to figure out the easy ones, but they have some trouble with the harder ones.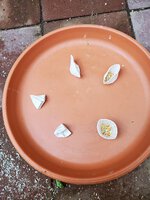 I also offer foraging trays using timothy grass
hay mixed with tasty leaves, flowers, herbs, and seeds. All the birds really like this activity.
9~ What difficulties did you encounter, if any, and how did you remedy them?
One of the challenges I encountered was how to install drainage. I wanted to be able to hose off the pavers when things got messy, but I didn't want to leave a lot of standing water on the ground.
I ended up settling on a dry well. It is basically just a big hole in the ground that gives the water somewhere to go. It took a ridiculous amount of digging, but I eventually got it deep enough and installed the drain.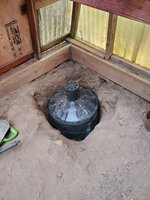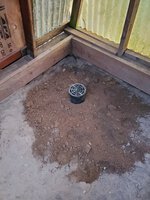 10~ What do you like least about your set up (if anything)?
In a perfect word, I'd like the aviary to be in a fully insulated structure. I love the natural light and open feeling of the greenhouse roofing, but it will make it more challenging to keep the birds comfortable in winter. Unfortunately, it wasn't worth completely rebuilding the whole structure.
If I could go back and change one thing about the current build, I would probably try harder to get a poured concrete floor instead of using pavers. The finished floor is uneven in some places and the cracks make it harder to get the floor completely clean.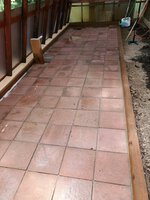 11~ What do you like most about your setup?
I like how happy my birds sound when I walk through the aviary. The project came together well and the finished space turned out better than expected. It is a lovely place to spend time with my birds and I think they are happy to have the freedom to fly and forage all day.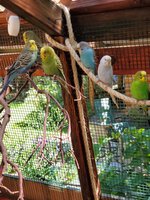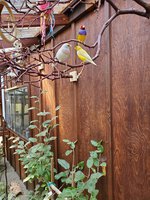 12~ Did your bird(s) take to the setup right away or did they approach it tentatively needing time to adjust and do you feel their age was a factor?
The birds adapted quickly to the move into the aviary. It took about a day or two for them to settle in and become comfortable. The biggest change was the sudden freedom to fly, as they had been largely cage-bound previously.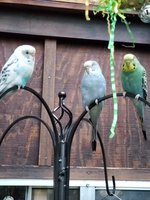 13~ Any future renovations planned
Nothing major at this time.
Last edited by a moderator: