ASK ME FOR PICTURES OF MY MACAW!
Super Moderator
Avenue Veteran
Celebirdy of the Month
Mayor of the Avenue
Avenue Spotlight Award
Joined

4/28/18
Messages

24,023
Location
Real Name

Shez
December 2020 Feathered Estates
Highlight
I am very pleased to announce this
month's showcased member
JLcribber





1~ What kind of birds do you have and how many birds did you design your setup for?
The current flock is made up of 5 birds. Two cockatoos. Two budgies and one cockatiel.
2~ Is your setup for a handicapped bird?
Not currently but in the past I have made special setups for injured birds or elderly birds in their last days.
3~ Are there any budgeting tips you discovered while doing your setup?
What is this budget thing? Is that like a mini budgie?
The only tip I have is to make things for yourself if you can. Saves a lot of money.
4~ Is your setup changeable or stationary and do you add or make changes continually or do things stay primarily as is?
What all my years of bird ownership has taught me (especially with cockatoos) is that they don't really like much change. Change equals stress and I avoid causing stress whenever possible.
Tika and Amanda are the only 2 birds I've ever owned that don't fly. Every other bird that has or is living here now flies and they fly a lot. Now their environment needs to be stable and unchanging simply for safety reasons. They learn the layout very well and use every inch of it. They dart in and out and over everything with speed and accuracy. Have never had a flying accident.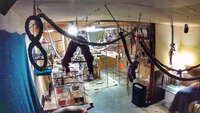 5~ Where did you find your materials if you made it yourself or where did you purchase the setup and do you have favorite places to purchase safe toys and/or supplies that you find reliable?
As I mentioned I make everything. All materials are just repurposed and raw materials I'm here look for and find depending on the need. Home Depot is my favorite toy store.
6~ Do you have a favorite item that you bought for your setup?
A paper cutter that holds 3ft wide by 1200 ft long rolls of kraft paper. I go through about 2 rolls a year. Easiest fastest cheapest way to cover and clean the floor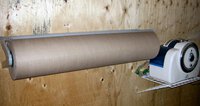 7~ If you made any DIY toys what is your bird(s) favorite and were there any failures?
Anything and everything is a bird toy. I don't make "toys" but just incorporate that into the environment. Everything in there is a chewable opportunity.
8~ Did you incorporate into your setup any foraging toys and how did your bird(s) take to them and was age or inactivity a factor?
They all have access to floor space with foraging. Foraging stations. For the cockatoos I have a few specialized foraging toys because they're so smart.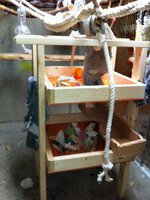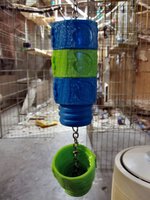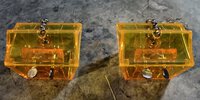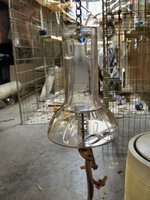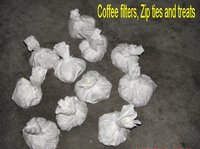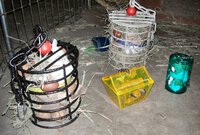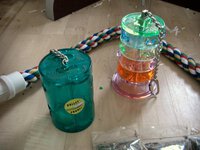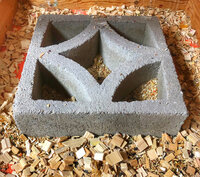 9~ What difficulties did you encounter, if any, and how did you remedy them?
It's a constant work in progress. They break chew destroy the environment. I rebuild repair it.
10~ What do you like least about your set up (if anything)?
The size. Too small. Could never be big enough.
11~ What do you like most about your setup?
It's a place we share. We live together.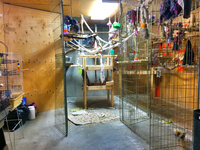 12~ Did your bird(s) take to the setup right away or did they approach it tentatively needing time to adjust and do you feel their age was a factor?
As with any new bird a new home is strange and scary. They enter an established environment that has rules and pecking orders. They learn very quickly by example how to fit in and where their place is on the totem pole is. Hasn't been a new bird in a few years now.
13~ Any future renovations planned
Yup. just as soon as that lotto ticket comes in. Going to buy or build a Geodome nad live in my own forest.​
Last edited: