Since the loss of Summer it's been deathly quiet, certainly not busy enough to keep Tau's mind occupied. I could have brought the lovies back into the flock but they are definitely mum's birbs now. Sprite is happy at my sister's, so I had a look through the vet's books, see if there' s anything up for fostering and adoption just to keep Tau company for a while and help bring him back out of his shell again.
I thumbed through the photos. Plenty of budgies - no thank you. As much as I love them I've had it with them. Couple of tiels - Tau's not ready. He'll either hate or fall madly in love. A pair of kakariki? Don't have the cage space. GCC? Bad experience with those. Then a Crimson Rosella on the back page.
I went through the book again, a little more slowly and negated everything, apart from the Rosella. He was reared/adopted at 2weeks by a pair of Cockatiels. His mother died and dad lost interest, and this pair had just lost 2 chick's (crushed). So he is used to tiels.
He has been plucking (his owner died and never got any stimulation from the children), and was surrendered to the vet's 3 weeks ago. He's remarkably healthy despite a seed diet and very skittish. The only thing is his right wing is
heavily
clipped
Ladies and Gentlemen: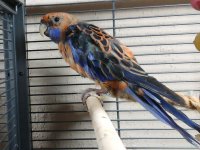 Last edited: