Rollerblading along the road
Joined

12/9/20
Messages

1,111
For those who auto ship like me, be wary of allowing substitutes!
I usually get a bag of Kaylor rainforest conure/lovebird seed mix shipped. $20 for 4 pounds is a decent price in my neck of the woods. Between this and my Volkmans blends, the birds are happy and get a bit of variety for the seed portion of the diet. This is what usually ships, sometimes from Amazon and sometimes from other suppliers: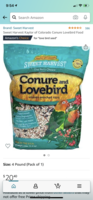 Recently, I was asked if a more expensive "Premium" mix could be substituted due to stock shortages. Same brand, Kaylor of Colorado. It's really hard to screw up a seed mix. Or so I thought.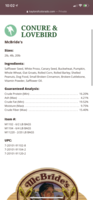 And while the peanuts are an iffy thing~ I could see a company having them included for those that don't worry about them, dog food? I can say this is the first time ever in my life that dog food has been included in a seed mix I've purchased.