So I have a question... Do your female tiels talk? I still don't know for sure of the gender of my Tiel, as I never got the DNA test results from the breeder, but I'm fairly sure she is a female because she is very loving and friendly. I've heard that males are more independent. But I've also heard that males are the ones talk more. She says "Pretty Bird", "I Love You", "Whatchoo Doin?", and "Helloooo".
She also whistles and makes clicking/kissing sounds. Quite the large vocabulary, as some Tiels never talk. And of course the moment we have all been waiting for, here are some pics!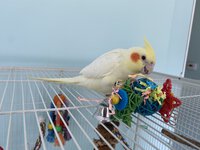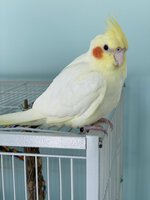 FYI: These pics were taken awhile ago, she is about a year old now.