♥❀Livin´ in Lovebird Land❀☼
Super Moderator
Avenue Veteran
Celebirdy of the Month
Mayor of the Avenue
Avenue Spotlight Award
Avenue Concierge
Joined

1/8/18
Messages

29,644
Location
OK so similar to last time, but this time it is a hanging toy (last time was wall mounted. Here´s the link if anyone missed it: DIY flower shredder). This is for little beaks, maybe you could give it to a larger bird (without the clip) as a foot toy.


No money? No toys available?
Maybe you have these things and can make this 5 minute 5-min-flower-shredder..
I live where bird toys are sparse so I'm always looking for DIY toys and activity ideas so I want to share this for anyone in a country with no toys available or maybe you are broke the day before payday and you want to give the birds something new to play with for a short while.

This is probably the most simply DIY toy that I have ever made and you don't need much to do it.

It take 5 minutes to make and approx 5 minutes to destroy (slight exaggeration- probably 15, but it depends on each bird)
Keep in mind this is a little boredom buster, and it is made to be destroyed (and likely will be very quickly), so it is up to you how much time you invest on creating it.

Here is a picture of the finished toy, you can change lots of things using whatever you have available, or to mix things up a little.
You can add a foraging aspect to the toy by inserting treats into the egg carton pieces.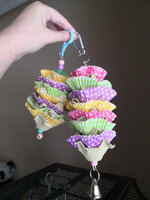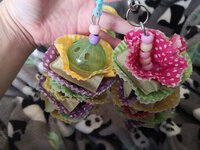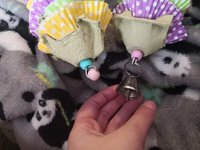 You will need;
-egg carton (7 egg holders)
-14 cupcake liners
-hemp/sisal twine or wire or a food skewer
-clip

Tools;
-scissors
-a poker
-possibly tweezers to help thread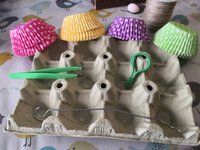 Optional extras;
-kitten ball
-beads
-colour food dye marker pens
-bell

You can make the top however you like using what you have, here are some ideas;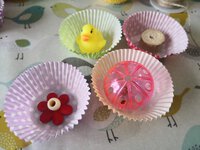 Instructions;

Cut the egg carton into individual egg holders, keep 7, save the rest for another day/toy. Flatten the cupcake liners, pair them up and put the plain sides (the insides) together;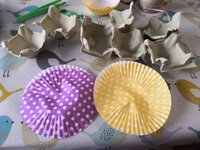 Poke holes in the middle of the liners and the egg holders.

Tie the top knot. If you are going to use a pear link, you can make a little loop then thread it onto the clip. If you are using a lobster clip, tie the twine right onto the clip;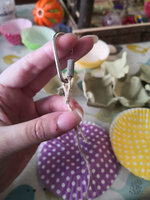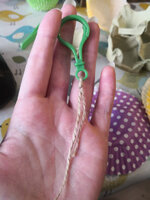 Thread the toy together starting from the top to the bottom. If you are putting a ball or beads at the top, do that first. Then thread one pair of cupcake liners, then one egg holder, then one pair of cupcake liners, then one egg holder until you thread the last egg holder.

You must put the thing you want at the bottom on last. So if you want a bell or beads, add them. They are optional, you can tie the knot after the last egg holder if you want;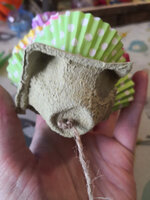 To prove you can make this really basic, I made one with no beads or bell, just the paper/cardboard pieces, twine and a lobster clip.

I will be giving this one away to somebirdy else