Biking along the boulevard
Avenue Veteran
BINGO!
Celebirdy of the Month
Mayor of the Avenue
Avenue Spotlight Award
Joined

7/3/16
Messages

7,747
Location
Real Name

Sarah
December 2019 Feathered Estates Highlight

I am very pleased to announce this month's showcased member DoubleTake​
1~ What kind of birds do you have and how many birds did you design your setup for?
Two sun conures, father Apollo and his son Cole. I call them the boys and a peach faced lovebird named Loki. The large one is for the boys but Loki gets to play on it when they aren't there and I made a small one for Loki. Loki's gets a tiny bathing fountain because she does not like going in the shower with me. The boys love going into the shower with me and they use up more water than I do!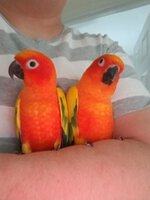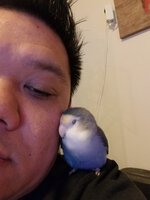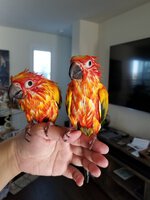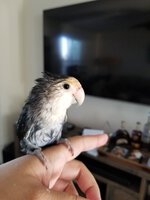 2~ Is your setup for a handicapped bird?
No. but I think Cole is secretly a psychopath.
3~ Are there any budgeting tips you discovered while doing your setup?
Voulenteer at a bird store, get lots of discounts and free things lol.
4~ Is your setup changeable or stationary and do you add or make changes continually or do things stay primarily as is?
The playarea is changeable and expandable. The current setup is approved by the fids and the only thing I change out are the toys.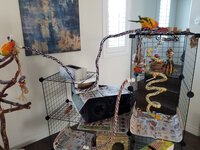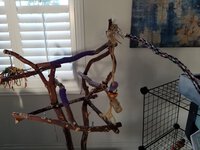 5~ Where did you find your materials if you made it yourself or where did you purchase the setup and do you have favorite places to purchase safe toys and/or supplies that you find reliable?
The wire shelving I got from amazon, it is powered coat steel. Rope perches and pre-made toys from the bird store I volunteer at, Omar's Exotic Birds. The tree stand, I got from Omar's but I to most basic one I could find, bought some ribbon wood and added a few more branches myself.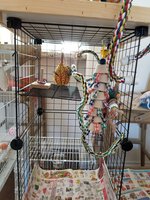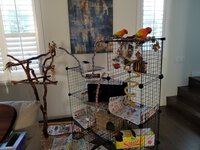 6~ Do you have a favorite item that you bought for your setup?
The best thing I bought is the wire shelving, they use it every day. They enjoy being on it, they will run to it or glide to it when I take them into the living room. The boys enjoy the cheap stuff, cardboard boxes and magazines. Loki is a little more high maintenance, she enjoys these pineapple toys.
7~ If you made any DIY toys what is your bird(s) favorite and were there any failures?
I haven't dabbled to much with DYI but am starting to look into them. The one thing that all my birds have liked is taking a fruit skewer and just stacking various type of wood on it for them to destroy.
8~ Did you incorporate into your setup any foraging toys and how did your bird(s) take to them and was age or inactivity a factor?
No, not really. My boys have no interest in foraging. They just want to shred. Loki likes to pick up their left over and tuck them in her tail like she did it herself.
9~ What difficulties did you encounter, if any, and how did you remedy them?
MY diffuclities is usually my execution. I always have ideas perculating in my head but trying to figure out how to get it to come together is my most challennging task. Try and error is my only remedy.
10~ What do you like least about your set up (if anything)?
I think the boy's play area could use some new toys.
11~ What do you like most about your setup?
I like that they have plenty of space and they seem content being able to stare outside the window.
12~ Did your bird(s) take to the setup right away or did they approach it tentatively needing time to adjust and do you feel their age was a factor?
All 3 birds had no issues when being introduce to the play stand. I think it helped that they saw me and my friend putting it together.
13~ Any future renovations planned?
Not at this time or my whole living room may turn into the bird play area.