Hello yall
This is Mojito my handsome baby boy (I'm guessing bc he's very vocal with chirping even though he's young) that i was given as an emotional support after the death of my father
I just wanted to ask if the bald spot on his head is normal?
I just found it weird seeing that his wing feathers are starting to fluff up.
Here's a picture of him resting on my leg, he likes that more than my hands for some reason.
I'm handfeeding him, don't worry I was trained by a breeder, plus mojito likes to eat the formula from my fingertips now that he's grown
Another question that I have is that I'm not sure about his age? The guy selling him said that he is 21 days old, that was 12 days ago! To me he is looking 20ish now, but I want some expert age guessing .
Thanks!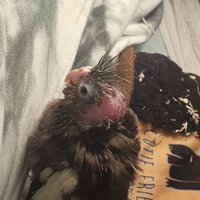 Last edited: