Rollerblading along the road
Avenue Veteran
Mayor of the Avenue
Avenue Spotlight Award
Joined

5/25/12
Messages

3,571
Real Name

JP
Fingers was attacked this morning when his angry hormonal neighbours found their way out of their flight and assaulted him
Their flight door weighs a kg, is 6 ft tall and has a brick against it. Didnt stop the terrorists
I Found Fingers hiding under a cage nursing his wounds at 8am, feeding time was late this morning.
Both wings are injured, the left one more so, but he is a tough little character.
He is eating apple on my desk as I type, but is not well emough to move about a lot or fix his feathers after the attack
Tell me again about these lovable little cuddly darlings?

Fingers and his attacker (both full grown adult caiques (13 years Old) were well matched. Explain to me again how your caique is best friends with your delicate little conure?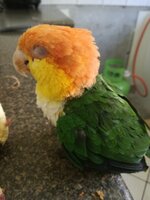 Last edited: