@Destiny

will you be putting fine mesh to keep them corraled when they hatch? How exciting!
I am looking into options. It is a little tricky because of the nest location. It is in the middle of the room, rather than in a corner so if I do decide to pen them in, I'll need to cover three directions.
If I give them the run of the aviary, I am concerned it will be too hard to keep track of the tiny babies. Also, the planted area is elevated from the rest of the aviary by a three or four inch high riser. The adult quail are able to handle it, but babies might not be able to manage.
Button quail don't do well in trios?
They can be kept in trios - one male with two females. And all male or all female groups can also work out. But it gets dicey once you start mixing genders, especially if you are trying to keep more than one male. Two mated pairs might be okay in a large enough aviary setting. They would just need to work out separate territories. This is easier to accomplish if you add both pairs into the aviary at the same time. If you try to add more birds later on, there is likely to be more squabbling. However, when keep quail in small cages, as is often done, you can't keep multiple males together with females, as they will inevitably fight with each other and can also over-breed the females.
There are several different species of quail that can be called "button quail". My quail are Chinese Painted Quail (
Coturnix chinensis).
They are different from the Japanese quail, another small quail that is sometimes called button quail or Coturnix quail. Japanese quail are larger and tolerate being kept in larger groups much better than the Chinese painted quail. They can also be kept in less space, despite being bigger birds. When looking at information regarding button quail care, be sure to double-check the type of quail, since different quail species have different care requirements and breeding habits.
Wait I thought you had multiple quails not just one pair?
I had four button quail initially, but it turned out that three were males and I had only one female. The boys were chasing Terra around relentlessly and getting in tiny little quail fights with each other to determine who was top man in the aviary.
Button quail are relatively easy to sex once they reach maturity, but hard to distinguish when young. I was hoping to get a different gender distribution so it would be possible to keep all four, but no such luck.
I picked my favorite (Geo) and rehomed the other two boys to a nice lady who was looking for a pair of button quail as pets. She was very pleased with them. I've kept in touch through Facebook and it sounds like they are doing well together.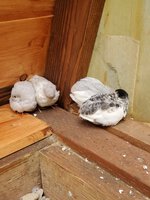 From left to right - Clay, Terra, Slate, and Geo