I was checking on my aviary yesterday and noticed that one of my button quails was missing. I have a pair of quails and they are always together. Today, the male quail, Geo, was out, but I didn't see my female quail, Terra. After a brief search, I spotted an unusual clump of leaves under the apple tree:
Upon closer inspecting, it was Terra sitting on a nest of eggs: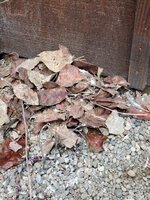 She must have gathered the apple leaves around her nest, because they were not piled up like this before.
Clever girl!