Lil Monsters Bird Toys
Super Moderator
Vendor
Avenue Veteran
Celebirdy of the Month
Mayor of the Avenue
Avenue Spotlight Award
Avenue Concierge
Joined

8/9/11
Messages

38,826
Location
Real Name

Shawna [she/her]
I keep April updated personally of course, but I know many of you want updates on how Bosco is doing here at Lil Monsters HQ, too! (Backstory
here
if you missed it!)
So far, he's been dutifully eating Harrison's, his veggie mix, and sprouts, but so far hasn't been interested in the bird bread and other things I add. Not even a nutriberry!
He's been picking at his toys with the tiniest of nibbles, and beating up a noisy toy I put in there with him.
He's seemingly annoyed that Ripley won't talk back to him; the only times I've heard him screech above a whisper are at breakfast time when he joins in with Ripley's noise, and when Ripley is nearby (but unable to reach him) and totally ignoring him
He makes the cutest little laser noises, "budgie" chatter, and mostly just keeps to himself so far!
He lets me talk to him through the cage bars; first day in the new cage he was not into it haha
I did find one of his clipped primaries on the floor of his cage though, so hopefully he will be able to fly (or the linnie version of it
) soon, so I can try and let him out on the ropes course. I just don't want him to fall and hurt himself!
And now, a few photos!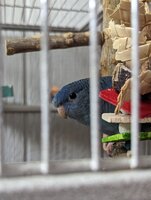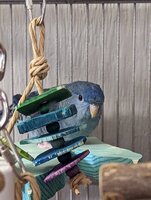 You can see Bosco at the top of the cage just staring at Ripley