Sprinting down the street
Joined

7/26/18
Messages

331
Location
Real Name

Cynthia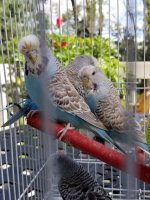 The Tale of the Bobbing Tail
I decided to get my cockatiel ..a friend ... and as I was reading, I also fell in love with the qualities of English Budgies ( EB ). An Avian Breeder in Indiana had both for sale so after about of month of correspondence and looking at all the pics of her present babies for sale..I fell in love with a female blue, she seemed to call out to me. I even named her GAGA because I sure went gaga over her. Her pic was beautiful in all poses but I noticed brown feathers about her cere ( the "skin" that surrounds the nostrils ). I have no training in bird diseases and the breeder must have wondered why I picked her because she even said with a tone of incredulity "You want HER???". Still she said nothing to make me think I should not buy her. She must have known I had no idea what was wrong with her. She sent me more pics of her as time went by and some showed the brown spots and in others it was washed off. I finally asked about it and she said it was just food from the babies on her feathers. I picked out 3 more baby EB and a cockatiel baby just weaned.
On the evening of October 18th , five lovely birds were shipped to me from the breeder in Indiana. The next day I noticed that Gaga was breathing faster than the other EB and also labored, as evidenced by her tail pumping up and down with each breath. As a nurse I know this was not normal so I made an appointment as a walk-in the the Avian and Exotic vet I take my birds to on the next day. She was seen Oct 20th.
The vet immediately saw her brown feathers above her cere and knew she had a respiratory infection. I was aghast because I saw the pics the breeder sent me on Oct 2nd and she was obviously sick then. I showed the pic to the vet and she agreed…"She sold you a very sick bird that was sick a long time., not only that..the bird
behind her is sick too!" I also mentioned that the bird was a baby and the vet looked at her and said, "This is an older adult bird that has had babies!"
She sent me home with antibiotic mediation and told me to call back if she got worse. After 10 days on the medication, Gaga was starting to get worse so I called to tell the vet and the office said to bring her right in. I tearfully told them that I was out of funds and that also my other birds that were shipped were beginning to also look sick.
They advised me to call one of the avian rescue operations and they gave me names and numbers. The first person I called was incredibly kind and helpful and came over the same day with a cage with a warmer in it to keep her separate from the others. She brought seed and so much more. She looked at my bird and said not to worry that her rescue group would cover the costs for medical treatment. I was astounded!
That day we brought Gaga in and she was started on a different antibiotic. But at the same time the four other new birds were showing signs of stress and illness. The rescuer had her own appointment with one of the vets the next day which was Tues. She let me have her appointment she had made for her own bird!So the other four birds went in along with Gaga and they were all put on several meds and two of them on breathing treatments. All of this COVERED by this wonderful bird rescuer.
They did all kinds of tests including the rescuer herself sent off samples on each group of birds..My older group, the newer group and Gaga who was in her own cage.I would never have been able to cover all this at this point in time.
The new antibiotic did not appear to be working but we at least found out that despite all of the tests not showing the causative organism, the GOOD news was that she did not have Psittacosis which was the worse case scenario because it is contagious for animals and humans as well. Gaga got so bad that I rushed her back to the vet early one morning a few days ago and they were waiting for her and whisked her into the isolation oxygen cubicle.
She is still there after two nights and will stay over the weekend. They said last night they really thought they were going to lose her and were surprised this morning when she was still alive! Her breathing was too fast to count and tail pumping wildly. But I had a lot of people saying prayers for her and I know God is a God of Mercy had has granted me 3 miracle animal healings so far in my life. She is getting tube feedings since she stopped eating. I think if she can just hang on long enough for the antibiotic to start winning.
Last night at home my other EB female ( who was almost getting as bad as Gaga with the tail pumping ) Tiara started to show small signs of improvement…and her tail stopped pumping and the breathing less labored. Also the two males are looking better though they were never as sick as the other two and the Cockatiel , who only had puffy feathers which can be a sign of illness, looks great.
Thank God for the goodness of people! The vet assistant who recommended the avian rescue, and the rescuer herself.
Meanwhile the breeder is being very nasty denying the bird was sick despite the pics that show clear evidence that she was sick at the beginning of October and who knows how long before that. In fact experts who have looked at the pics say that there are several birds besides Gaga in the pics that show evidence of respiratory distress (brown feathers above the cere is a classic sign). Plus another surprise: the rescuer and the vet and others who got to see her said she is an older mother bird…the breeder flatly denies this saying she was born in August of this year. The markings of the bird plus exam shows that she is not a baby.
The breeder unfortunately cares nothing for her birds and in fact told me when I first called her: "Oh just put her in another room and don't look at her. If she dies she dies. I can't afford to be paying more money to help her. I will just send you another bird." This woman did not even care that ALL her birds are at risk for dying!! She acted ignorant of what Psittacosis is…and she is a breeder! Think of all the birds and the people who buy them will have to go thru these tragedies!