Checking out the neighborhood
Joined

7/8/19
Messages

2
Real Name

Virginia
I recently adopted a 3 month old baby Indian ringneck who was raised by his parents and has injuries to his legs/can't walk. He gets around quite well in his home and is eating formula at present. He loves getting around with me so he can see everything...
He can't perch or hold onto me, so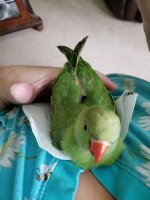 I wondered if anyone has ideas for a birdie pouch or something that would keep him secure on me as I walked around in my house.???
ANY IDEAS FOR SIMILAR SITUATIONS IS SO APPRECIATED! PLEASE ADVISE IF YOU'VE EXPERIENCED ANYTHING LIKE THIS YOURSELF.