This site randomly liked one of my Instagram photos, so I checked them out and they have some really lovely pieces.
Arcametti creates original, unexpected, & sophisticated tree stand perches designed to enrich the lives of parrots & their people. Responsibly sourced. Incredibly unique.
Example...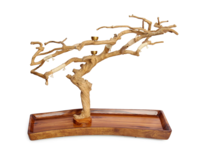 ... just be sure to be sitting down when you check their prices.