Jogging around the block
Avenue Veteran
Joined

3/16/10
Messages

742
Location
Real Name

Brice
hey guys so i
t realised that i never made an actual thread about my aquariums, so here goes nothing


i have always been fascinated by aquariums and fish in general, to me it is beautiful to have a full ecosystem in your home, kind of like watching a nature in your living room ( wo that came out weird
).
So i got my first ever fish tank at the age of 12 (it was a 120L community fish tank so about 31.7 Gal if google is correct) and i have never stopped being an aquarium lover since.
when i was 21 yd (6 years ago) i finally left my parent's house to live on my own and decided to get into aquarium keeping again (stopped the hobbie 1 year before moving out from my parent's), and since then it was such a rollecoaster ! from betta fish breeding, to marine aquarium and keeping up to 11 fish tanks in my appartment now i think that i am satisfied with my current "number" of aquariums lol.


i also have a mini pond (about 600l so 158.5 Gal) in the garden but ill show it to you guys in another thread.

So i am going to start with the smallest aquariums and work my way up to the biggest i currently own.

Let's begin with my 2 8L (2.11 Gal) tanks with a Male betta fish in each (just so you guys know those tanks are temporary homes since their in a 60l / 15.85Gal divided tank was leaking and will live in there for a few month until i have the money to get a new one)
1st, Jiraya and his tank, so i have always believe that he is a Over Half Moon rosetail Mustard gas but now im not sure anymore (for the non betta keepers on the forum rosetail and over half moon are names of tail/fins types, mustard gas is a color pattern)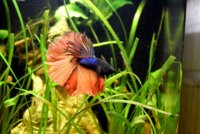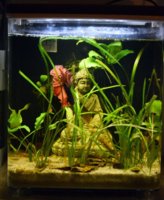 The second 8L tank is the temporary home of Oscar the newest member in the family, he is a marble/mustard gas Half moon.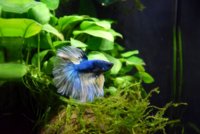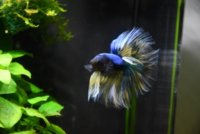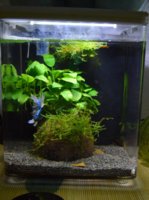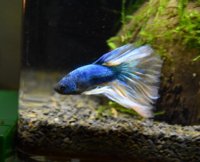 Next we have chimera, he currently is in a small quarentine tank until he's brand new 28L/7.39Gal tank that i just got him is finished cycling. he is a Marble Super Delta (in betta fish marble is a color mutation that makes the fish change color throughout it's life depending on various factor, when i got Chimera he was white with 3 blue scales lol)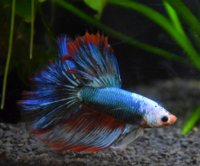 his new tank currently cycling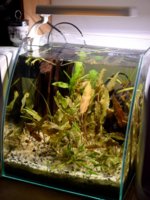 Next we have thunder and his 30L/7.92Gal tank that he is sharing with 5 amber tetra, he is a copper gold delta.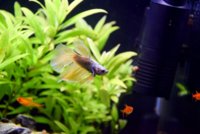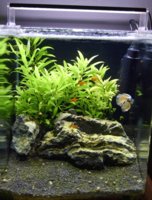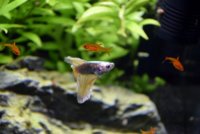 i have 6 fish tank but the last one had it's lights turned of because of a huge algae bloom so i will take pictures when that is taken care of, anyway now my biggest tank of all the 233L/61.55Gal tank. it currently house: 2 angels, a pair of apistogramma Borelli, a groupe of neon tetra and rio tetra, 1 ancistrus gold, 1 marmelade ancistrus, a few khuli loaches, 5 corydoras bronze; sorry for the state of the tank i need to clean it, trim a few plants and get rid of some algae.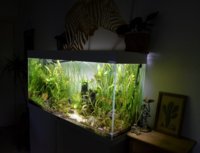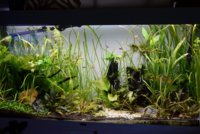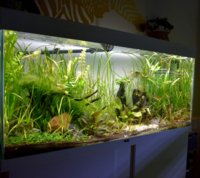 ​