Checking out the neighborhood
Joined

12/26/17
Messages

1
Real Name

elad
Hello everybody,
My dear Kory hes start to behave strangely.
Most of the time he walking aroud in the house and tweets and when he wants silence that he could sleep, he tweet loudly.
But now he only sits below the water canister as shown in the picture and he is slightly more aggressive(bites me more often ).
I am afraid that somthing happand to him.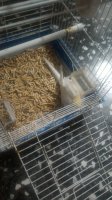 for the record, i start gave him month ago
Vitakraft African Parrot Food.
maybe he dont like it?
maybe he's cold?
maybe he is sick?
hope somone can help me.
Biscuit